1. Introduction.
At Cool Tabs, we have a tool that allows you to create custom templates for your campaigns and use public templates that are free to use, with a custom design for each one. This is a great starting point for your campaigns. Do you want to create a quiz, but don't know what design or look and feel you want to give off? In this tutorial, we'll tell you everything you need to know!
2. Step by step.
Go to "Your Campaigns" and click on "My Templates":

This system will allow you to access the "Template Management". This section is divided into two: "My Templates" and "Public Templates". In the first, all the custom templates we create will be saved here in order to use them on future occasions. This option is essential for companies that want to always use the same look and feel (logos, colors, corporate fonts...).

How to Use a Public Template.
At Cool Tabs, we have created a series of public templates that are sure to be very useful when creating your campaigns. In this section, you can use all of the available templates, since they are free to use, for any type of campaign. All you have to do is click on "Use Template" and a copy will be created in the campaigns section. Within this copy, you can adapt the content and questions to your campaign. Do you want to create a "pick your favorite" contest by presenting the options to users in 3 columns? Do you want to create a data collection campaign with the form's fields in 2 columns? Do you want to create a quiz to challenge your users on their knowledge of different topics? You have access to all these options and many more. Use these templates!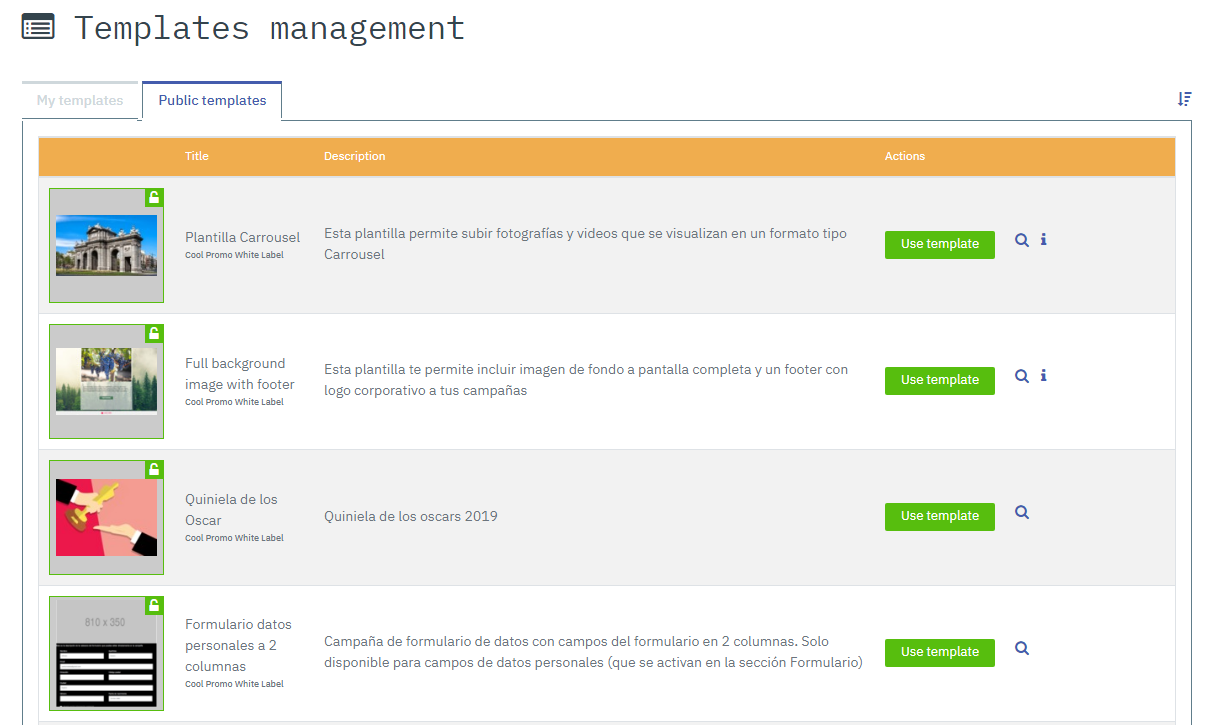 How to Create a Custom Template.
To create a custom template, the first thing you have to do is to create or already have an existing Cool Promo, Cool Promo Lite or Cool Promo White Label campaign. In this link, you can find a tutorial on how to create your campaign or contest in White Label. Once it's been created, in the Campaigns section, we will click on the cross on the right to open up a drop-down menu. Among all the options, we will find "Create Template", clicking this option will take us to the new template where we will have to put an image for the list, a title and a description.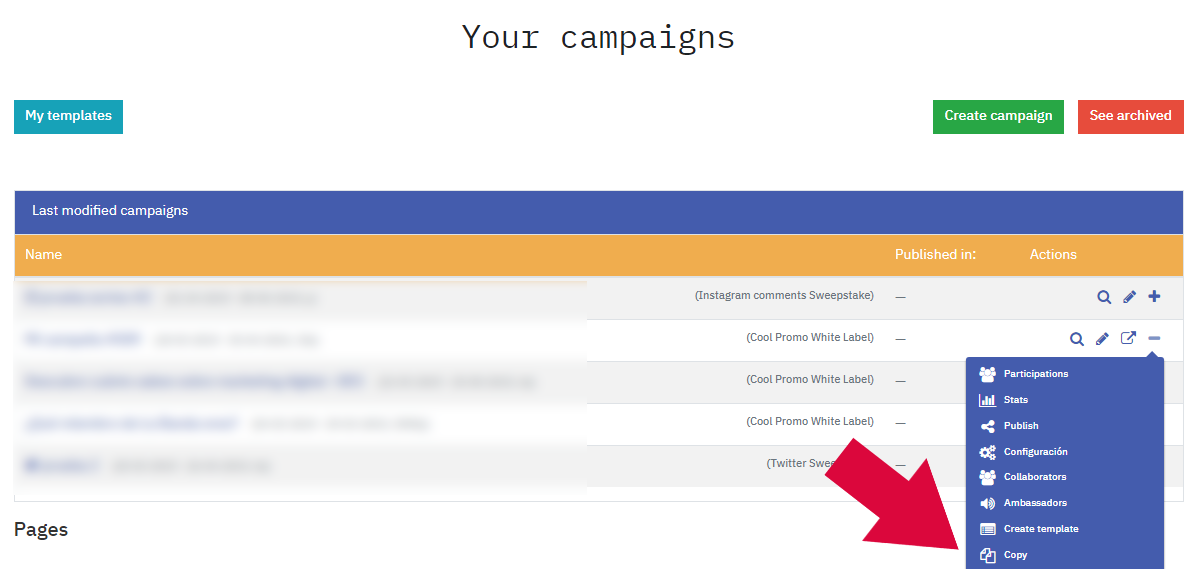 Once we click on save, we will have our custom template created in the "My Templates" section. To use it, we will simply have to click on "Use Template" and a copy will be created in the Campaigns section. Here, we can change all the content we want and use it for future occasions. It's that easy!
To edit our custom template, you will have to go to the "Template Manager", click on the "Edit Template Metadata" tool button, and once inside you'll click on "Edit Base Campaign".


Now you know how to use this tool that we've create just for you. We hope you find it useful!
3. Related Content.
Cool Promo White Label: Create Your White Label Campaign >>