2.1. Publish the sweepstakes on Twitter.
2.2. Create the sweepstakes in Cool Tabs.
2.4. Winners page and certificate of validity.
2.6. How to contact the winners.
1. Introduction.
The Twitter Sweepstakes app allows you to carry out a sweepstake among your followers or among those users who retweet one or more of your publications. You can require any of these actions or all of them.
The use of this application is included in all our plans. You can also use it within the trial days.
Keep in mind that retweet sweepstakes can only be performed on tweets less than 7 days old. Twitter does not provide information on retweets with an earlier date.
2. Step by step.
2.1. Publish the sweepstakes on Twitter.
It is a mandatory requirement to have published the sweepstakes on Twitter in order to use the Twitter Sweepstake app. Once published, you must create (register) the sweepstakes in your Cool Tabs account, to tell us from which account and from which publication or publications you want to collect participations.
It is important to create the sweepstakes right after the tweet has been published as, due to technical problems with the Twitter API, we will not be able to collect information from older tweets.
2.2. How to create the sweepstakes.
Access
Cool Tabs
, create a new campaign and choose the
Twitter Sweepstakes app
.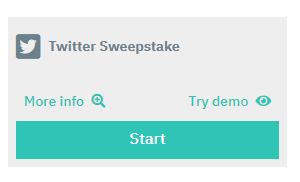 Choose the Twitter user you want to run the contest with.

Select the kind of sweepstakes. This can be among your followers or among those users who have retweeted one (or more) of your tweets.



If you choose to run it among all your followers, the sweepstake will be run among all your profile's followers.
If you choose the option among those users who have retweeted, you must complete certain information related to the sweepstakes. Also, you can choose if it's mandatory to follow your Twitter profile.
Campaign name: this is a name to identify your sweepstakes.
Sweepstakes time zone.
Start and end date of the sweepstakes.
You can determine as a requirement that participants have to be followers.
Tweets on which you want to carry out the sweepstakes.

2.2.1. Add more publications to the sweepstakes.
Twitter Sweepstakes also allows you to edit your sweepstake and include new posts. This is very useful if we give a reminder of the contest on Twitter. This way, all the retweets made on the new posts will be collected as well.
To include new posts, you just need to access your campaign and click on 'Add more tweets', and select the tweet/s you want to add.
Bear in mind that you should create the Twitter Sweepstake right after you publish your tweet and include all the new posts right after you create them, to ensure that all the participations are collected. Twitter only gives us the last 100 retweets. Also, you can only make sweepstakes of tweets or retweets that are less than seven days old, as Twitter doesn't provide older information.
2.3. How to select winners.
To select winners, you need an active plan on the platform, either paid or trial. The trial period allows you to try any of the platform's plans for free, for 7 days and without any usage limit.
More information about the Free Trial>>
To choose the winner or winners, click on the 'Winners' section that you'll find from the main list of your campaigns by clicking on the icon shown with three horizontal stripes. If you want to access the list of participants, click on the icon with the three stripes and then on 'Leads'.

Once inside the 'Winners' section, you will find the following filters:
Start and end date to participate.
If one of the requirements of the sweepstakes is that participants have to be a follower of an account, in this step you have the possibility to set this filter. This filter is only available from the Gold One Plan onwards.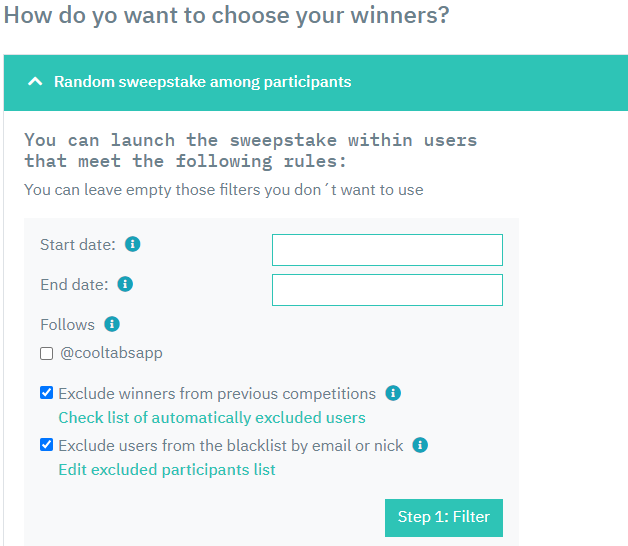 Once you have completed the filter fields that apply to your sweepstakes, click on 'Step 1: Filter'.
Finally, indicate the number of winners and click on 'Step 2: Launch sweepstake'.

2.3.1. Why isn't all the data displayed in my sweepstakes?
Sometimes, not all the information of a sweepstake is shown (for example, we have 1,500 RT's, but Cool Tabs is only showing 1,300). This is due to the Twitter API and what Twitter considers "relevant" or not. There may be accounts that have no followers or are very new users and Twitter considers them as not relevant and does not include them. Twitter's standard search API focuses on relevance and not completeness.
2.4. Winners page and certificate of validity.
Once you've chosen the winner/s, you will get a link to the public winners' page, so that you can publish it and communicate the result. The winners' page includes the certificate of validity, which certifies that the process has been carried out in a random and transparent way.
In order for the participants to see the winners' page, don't forget to set it to public mode (as shown in the image).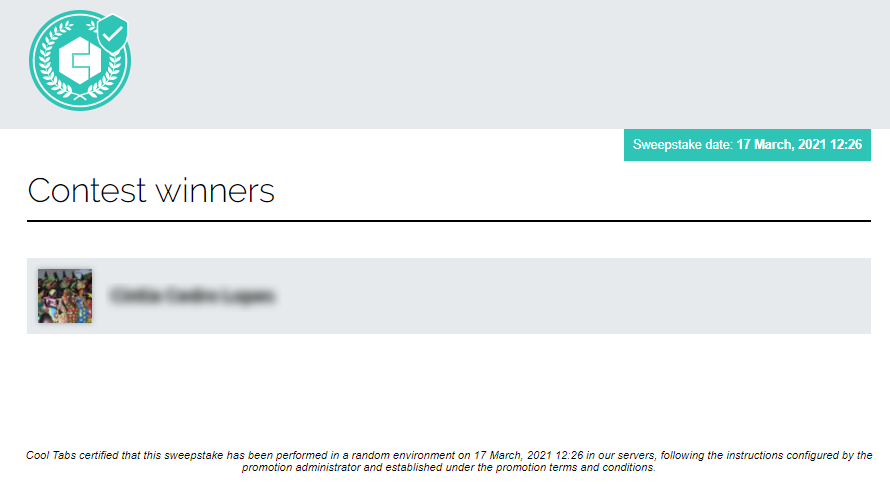 Twitter Sweepstake also allows you to customize your public winners' webpage. Take a look
here
.
2.5. Winners video.
After the winner selection, you also have the possibility to generate a video with the result of your sweepstakes. This video can be published with a URL or downloaded for posting in a tweet.
2.6. How to contact the winners.
Contacting the winners of Twitter sweepstakes is very simple. Once you have selected the winners, in the 'Winners' section, you will find the winner's username.
If you click on the Twitter icon next to it, it will take you directly to their profile. You will then be able to send them a private message.

3. Other specifications.
You can only make direct draws on both Twitter followers and retweets public profiles.
Specific limits for direct draws of retweets with Twitter Sweepstakes:
You can only make sweepstakes of tweets or retweets that are less than seven days old, as Twitter doesn't provide older information.
A maximum of 20,000 retweets will be collected.
The Twitter Search API is based on the relevance of publications and not on gathering them all. This means that some tweets or users will not appear in the final results. We usually collect over 85% of the retweet on a tweet.
4. Related content.
How to Create a Hashtag Sweepstake on Twitter and Instagram >>