1. Introduction.
With the Cool Promo and Cool Promo White Label applications, included in the Gold and Diamond plans, respectively, you can use the tool to automatically send SMS to users who participate in your campaign.
This way, you will be able to send messages to participants individually and automatically according to the fulfillment of certain conditions (after participating, whether they have won an Instant Win, whether they have obtained a specific final screen, etc.).
In addition, you will be able to configure the sender of the SMS and the text you want to display.
2. Ideas and examples.
Although SMS is a personal communication channel that is no longer in use, in marketing they are still a very effective tool, due to the high opening rate they have.
They will help you to:
Streamline communication with winners: they will receive an SMS, in which you can tell them how to contact you to receive their prize or how to validate their prize.
Incentivize and redirect to purchase: in coupon or discount code campaigns, you can remind participants of the use of the benefit they have obtained and redirect them to purchase.
In short, it is a tool that will allow you to maintain more direct and effective communication with users and customers who participate in your campaigns.
3. Step by step.
From your campaign editor, you can configure the sending of SMS in the 'Emails and SMS' section.

You can also access the SMS settings from the main list of your campaigns.

Once inside, select the 'SMSs' tab and click on 'New SMS template' to start the configuration.

You can add as many new templates as types of shipments you want to send.
Within each template you can configure:
- Internal name: users will not see this name. It is a name so that you can identify it internally.
- Sender's name: this is the name that the recipient will see. It is highly recommended to customize it so that they can identify you quickly and maximize the opening rate. You have a maximum of 11 characters.
- SMS text: you can customize it, including our advanced customization variables for after participation.
Please note that a standard SMS (GSM alphabet) allows you to write SMS messages with a maximum length of 160 characters. In case you want to send an SMS with special characters (UNICODE format), this limitation is reduced to 70 characters per message. If the messages to be sent exceed this length, there is no problem because they will be sent in the concatenated form and will be displayed on the mobile of the recipients as a message of a longer length.
Each SMS sent costs one credit on the platform. If, for example, you want to send a discount code to the 700 participants of your campaign and the message to be sent is composed of 2 SMS, the total cost of sending will be 700 x 2 = 1,400 credits.
Once you have completed the content of your SMS, configure the conditions in order to receive the SMS. The options are:
After participation: the user will receive the SMS after participating with one of the following conditions:
In any case: the participant will receive the SMS regardless of the final screen he/she gets.
Instant winner is: this SMS will only be sent to participants who get the winning moment you determine.
Has any instant winner moment: it will only be sent to users who get any winning moment.
Does not have any instant winner moment: users who have not won any Instant Win prize will receive this SMS.
Thanks screen is: it will only be sent to the participants who get the final screen you determine.
Below, you can see an example of an SMS received by a user after participating: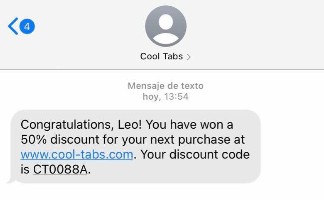 In the SMS sending section, you can check the current status of your SMS credits, as well as the status of different events related to the SMS you have sent.
4. Other specifications.
The use of the automatic SMS sending tool has an additional cost. For the cost of SMS packages, please contact us at help@cool-tabs.com.