2.2. Social Wall with Moderate Content.
1. Introduction.
When running a Social Wall with Cool Tabs, we'll be able to manage the content that is being monitored. We can publish or unpublish the content to be displayed or not in the Social Wall.
2. Step by step.
2.1. Content Management.
All the Social Walls that we set up in Cool Tabs are associated with several monitors (one for each hashtag to be used in Instagram and/or Twitter). Content monitoring is available from/through the Your campaigns section, in the Moderate icon: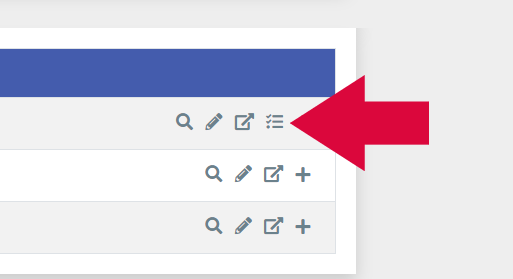 Once inside, we'll be in the content management section. If the Social Wall is associated with a hashtag on Twitter and Instagram, a tab will appear for each content management:

Twitter management: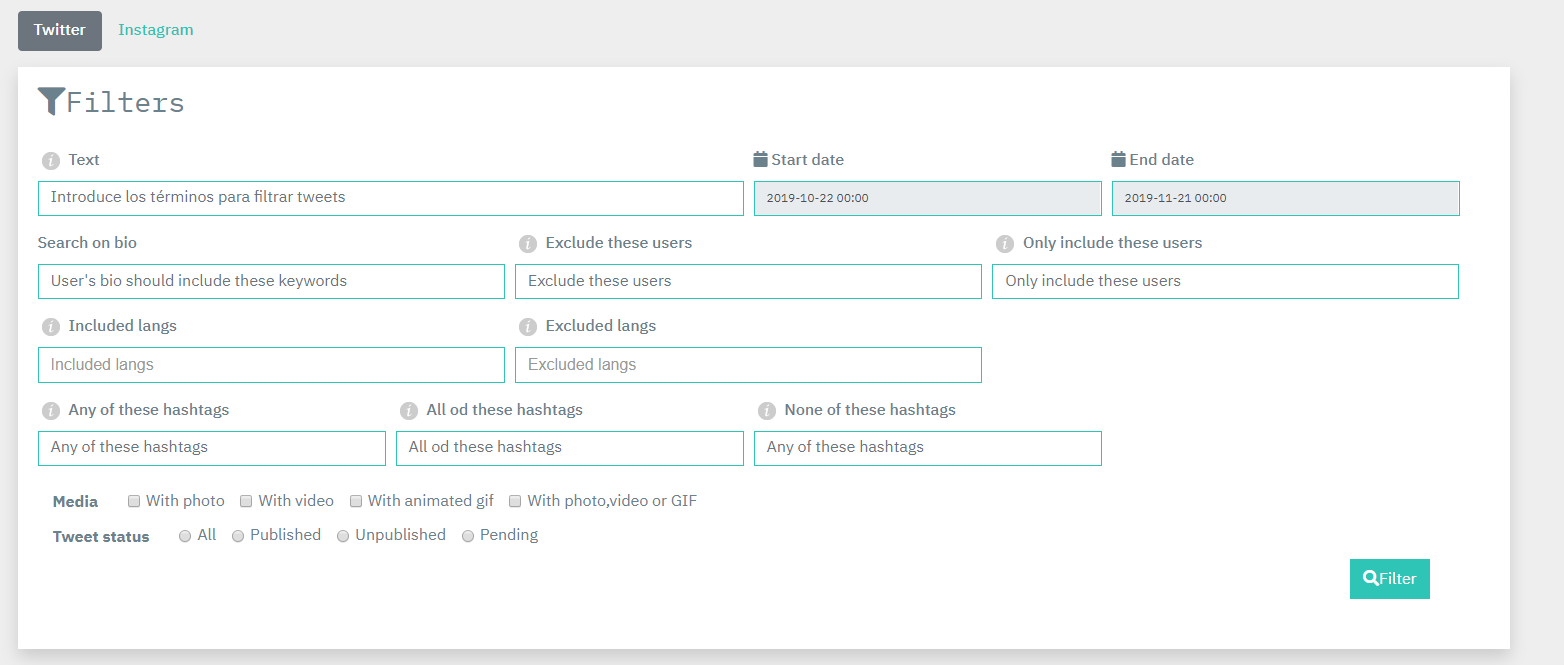 Instagram management:

In this screen, we will be able to apply all the filters that we need in order to find the content we are looking for. We'll be able to save as many filters as we need and access their corresponding reports whenever we need.
In addition, you will be able to filter monitoring by pending content. All you have to do is activate the Pending check and click on the Filter button.

All the content that has been collected with the analyzed hashtag that meets the date criteria will appear under this section. A lot of useful information will appear here as well (nicknames, texts, RTs, favs...).

2.2. Social Wall with Moderated Content.
If our Social Wall has moderated content, the dashboard will only show the content that we have explicitly approved. To do this, we will focus on the Actions column, which shows a check, a cross and the logo of the social network (to access the specific publication).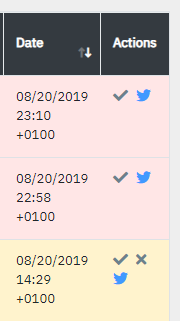 If the content is moderated, we will see all the posts that have not been moderated yet (yellow row). If we want to publish one specific item, we only have to click on the check and this publication will be shown with a green row. This means that the post will be shown in the Social Wall panel. If we do not want this post to appear, we will use the cross. This way, a red stripe will appear indicating that this content is unpublished and will not appear in the panel.

In addition, we will be able to delete the content. Just select the content and use the Remove selected button.

2.3. Multiple Moderations.
We will be able to do a multiple moderation of all the content. Just use the generic checkbox: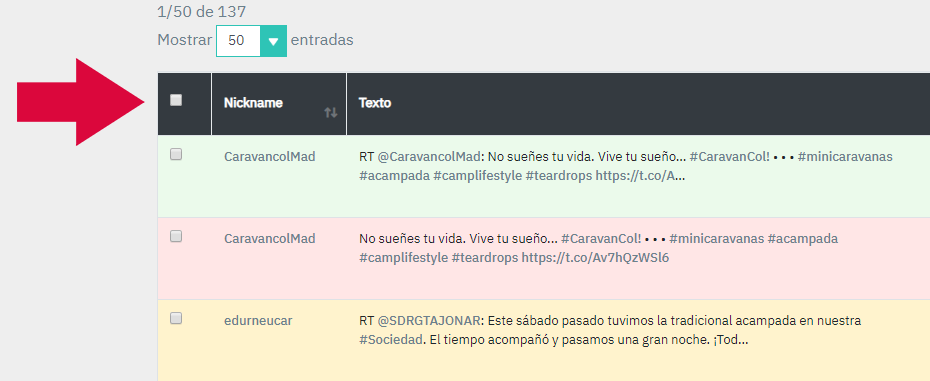 Once selected, we will be able to publish/unpublish all the content at the same time. Just select the different items you want to publish/unpublish and use the corresponding buttons below.

3. Other specifications.
If you have any questions during the process, do not hesitate to contact us through our webchat or our support email help@cool-tabs.com
4. Related content.
More information about Social Walls >>
How to Create an Instagram Hashtag Monitoring >>