2.2. Hashtag Sweepstake on Instagram.
1. Introduction.
With our Social Listening - Analytics application for Instagram, you can monitoring a hashtag and obtain your report with:
Number of publications per day, hashtag and most used words.
Ranking of posts with more engagement.
Likes, comments and publications per day.
*Keep in mind that, following the new API by Facebook on December 11, 2018, we'll only be able to collect the content with the hashtag of the last 24 hours since the creation of the monitoring.
2. Step by step.
2.1. Create your monitoring.
1. Log in to Cool Tabs, go to the "Monitoring" section and create a new "Instagram Hashtag" monitoring.

First of all, you must associate a Facebook profile because the access to your Instagram accounts is made through your Facebook Business Manager account.


Then you must choose an Instagram profile to associate monitoring. This selection does not affect the collected data, but Facebook requires an associated Instagram profile in order to be able to search Instagram posts by hashtag.
We add the hashtag that we want to monitor and the time period.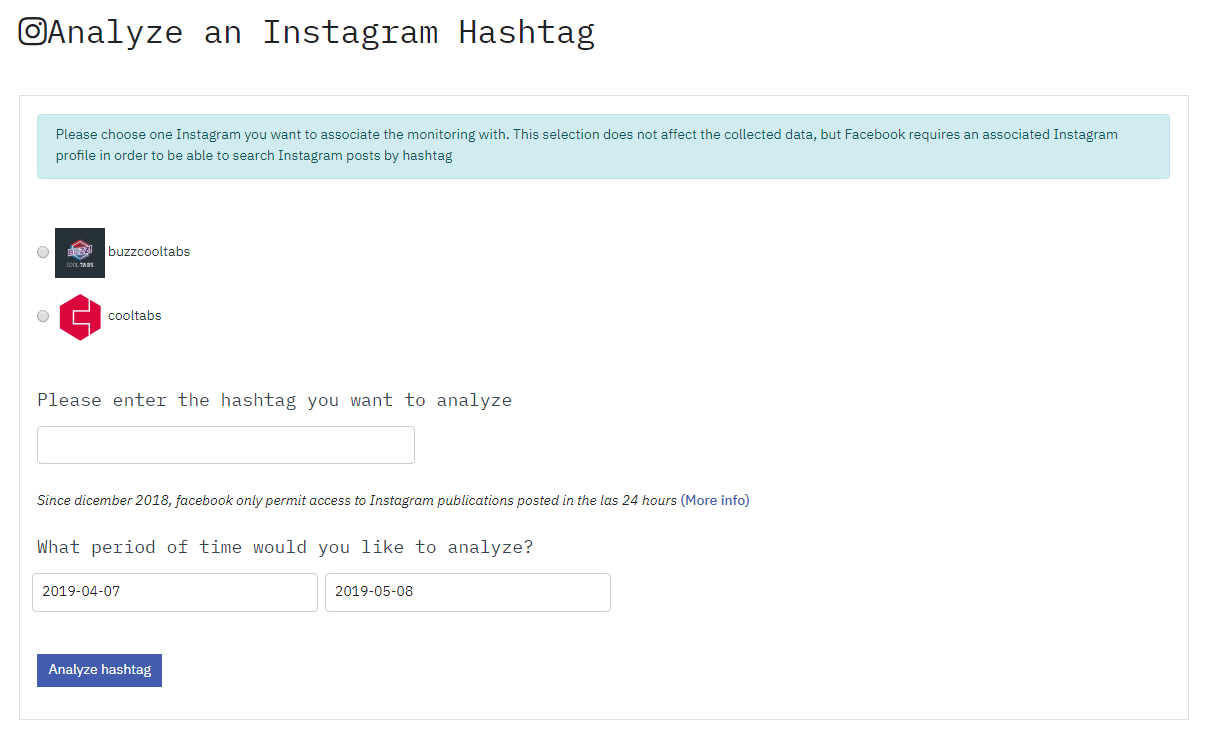 In the sidebar on the left, you will have access to statistics and data about engagement and photos. In addition, in 'Instagram Photo management' you can filter by search terms, by date, exclude users or establish that only the user's publications or users that you indicate are included.
To edit your monitoring you must do it in the following icon:

2.2. Hashtag Sweepstake on Instagram.
With this type of monitoring, you can create sweepstakes through a specific hashtag and choose winners. In the following tutorial we explain how to do it:
How to Create a Hashtag Sweepstake on Twitter and Instagram >>
3. Other specifications.
If you have any questions during the process, do not hesitate to contact us through help@cool-tabs.com
4. Related content.
How to Create a Hashtag Sweepstake on Twitter and Instagram >>
How to create a Facebook page monitoring >>