2.2. Select the campaigns you want to combine for the draw.
1. Introduction.
The Multiplatform Sweepstake app allows you to launch a draw among participants of several draws that you have launched in different social networks. This way, you can unify participants and select a single winner or winners.
You can realize a multiplatform sweepstake with all the dynamics supported with Cool Tabs: sweepstakes on different social networks (Facebook, Instagram and Twitter) and gamification campaigns to attract qualified leads (with a data form).
The Multiplatform Sweepstake app does not support draws from a list.
2. Step by step.
Keep in mind that the process to use this application and select a winner is as follows:
Publish the sweepstakes on your social networks.
Create these sweepstakes independently in your Cool Tabs account.
Use the Multiplatform Sweepstakes app to collect all participants and make the winner selection. We will explain it below.
2.1. Create your sweepstake.
To use this app, you have to have already created the draws or campaigns you want to collect participants in your Cool Tabs account. If this is not your case, first of all, create those sweepstakes in Cool Tabs. You can follow the next tutorials:
If you have already created the sweepstakes on Cool Tabs, enter into your account and click on 'Create campaign'.

Select the Multiplatform Sweepstakes application option and click 'Start'.

2.2. Select the campaigns you want to combine for the draw.
Name your sweepstake so you can identify it in the list of your campaigns.
Select the sweepstakes or campaigns you want to include in your multi-platform draw.
If there are campaigns that don't appear on the list, click on 'Load more campaigns'.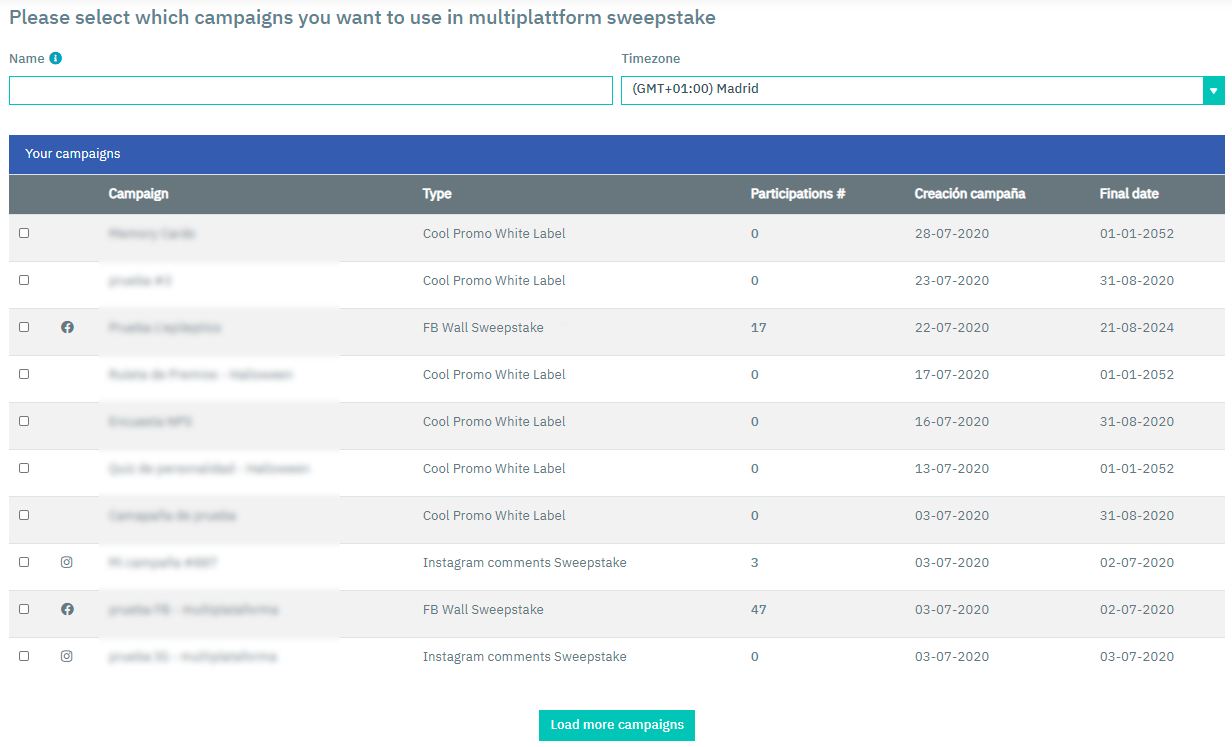 2.3. Winners selection.
Once you've saved your campaign, the next screen will be the list of participants. In this section, you can see the total of publications, the ones that have been published, the pending ones (in case of needing validation) and the unpublished participations.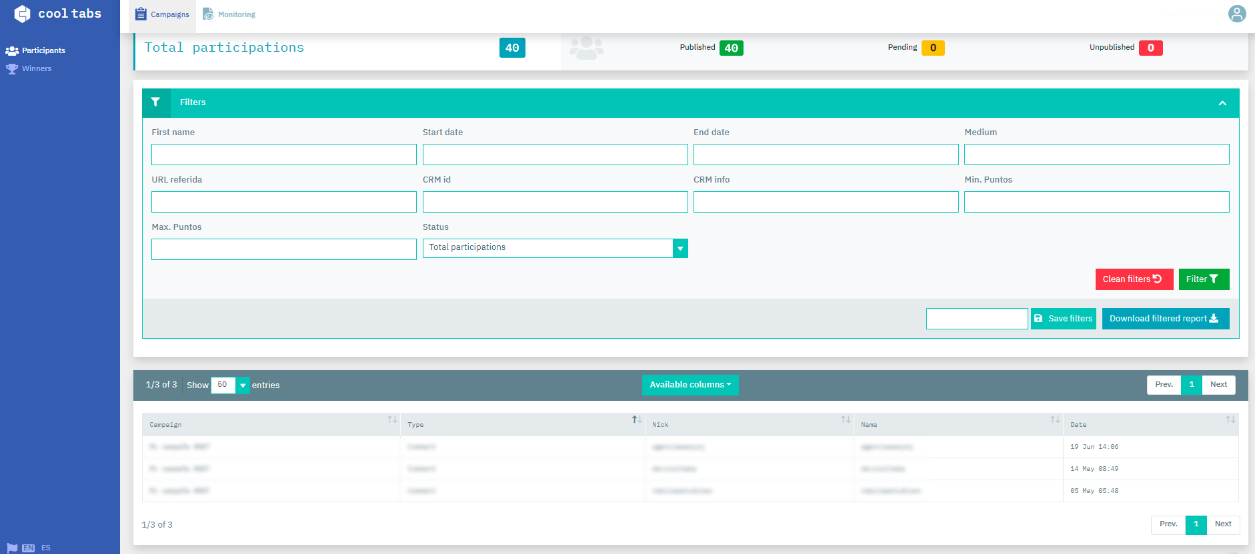 To select the winners, go to the 'Winners' section.

In this screen, you can filter the dates on which you want to select winners. In addition, you can exclude winners of previous contests or users that you have in your lists of prohibited emails / nicks.

Once you've chosen the winner/s, you'll get a link to a public winner's page, so you can share the results with all your followers.
3. Other specifications.
The Multiplatform Sweepstakes app is included in all Cool Tabs plans. You can also use it during the 7 days free trial period.
If you have any questions during the process, do not hesitate to contact us through our webchat or our support email: help@cool-tabs.com

4. Related content.
How to Create a Direct Sweepstake on Instagram >>
How to Create a Sweepstake Among Users Who Comment on a Promoted Post on Instagram >>
How to Create a Direct Sweepstake on Twitter >>
How to Create a Direct Sweepstake on Facebook >>