1. Introduction.
With our Social Listening & Analytics tool for Instagram, you can monitor a profile and obtain your report with the following information:
History of followers
Most used hashtags, words, and filters.
Ranking posts with the most engagement
Likes, comments, and posts per day
Impressions and daily reach
Profile views and clicks in Bio
Hashtags and filters with the most engagement.
Best days and hours to post.
⚠️You can monitor your own profiles or your competitor's profiles. Keep in mind that the data offered by monitoring other people's profiles have some limitations.
2. Step by step.
2.1. Create your monitoring.
Log in to Cool Tabs, go to the 'Monitoring' section and create a new 'Instagram Profile' monitoring.

First of all, you must link the Instagram profile to your account:


After that, you have to select the profile you want to monitor. You can choose between one of the profiles that you have already associated or associate a new Instagram profile. Clicking on 'Analyze' will start monitoring.

Once the data has been collected, the analysis of the monitored profile will be displayed:

On the left sidebar, you will have access to statistics and data on engagement and photos. In addition, in 'Photo Manager' you can filter by search terms, by date, language, exclude users or establish that only the publications of the user or users you indicate are included.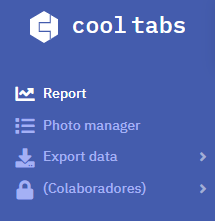 To edit your monitoring, click on the following icon: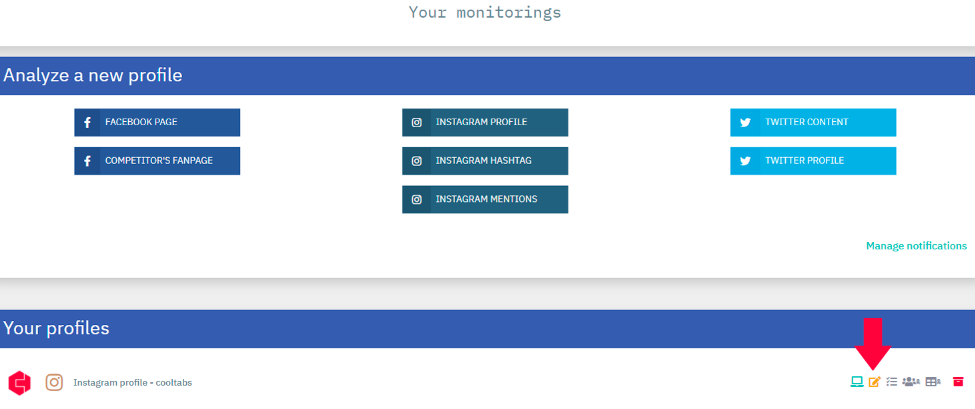 In order to visualize the analysis of your monitoring, click on the following section:

3. Other specifications.
If you have any questions during the process, do not hesitate to contact us through help@cool-tabs.com
4. Related content.
How to Create a Twitter Profile Monitoring >>
How to create a Facebook page monitoring >>