1. Introduction.
WallPromo is an application that allows you to manage and filter the number of "likes" and comments in the post of your competition and to select the winner.
2. Step by step.
Let's see step by step what we should do to create a contest on our wall and use WallPromo in order to do so: 
2.1. Publish the post.
Publish the post on your wall with the content regarding the campaign that you want to launch.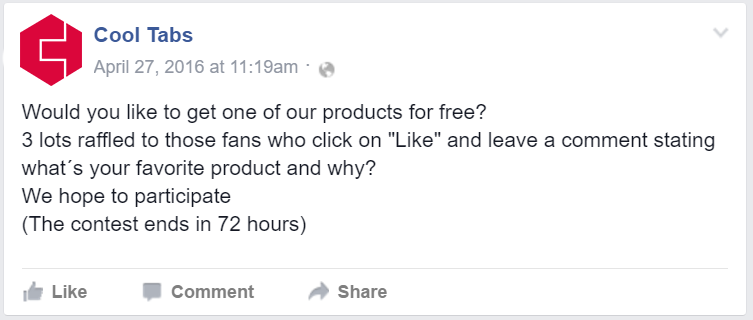 2.2. Create your WallPromo.
Enter Cool Tabs, select the application WallPromo and select the Facebook page where you published your sweepstake. 

Choose the post (or posts) in which you included your sweepstake and the date until when the data will be collected.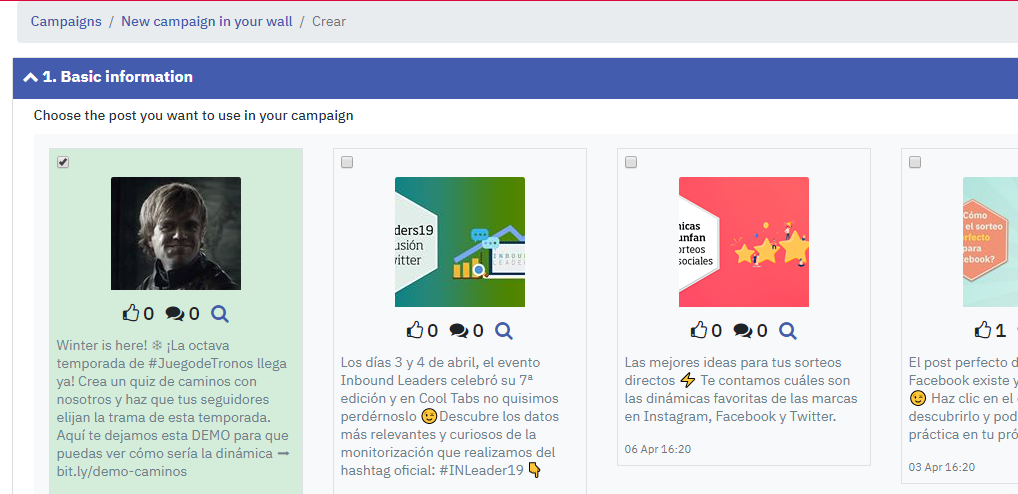 Once you have completed these steps, WallPromo starts to manage your sweepstake inmediately. If there had been any likes or comments before the creation of WallPromo, data would be collected without problem. Wall Promo allows you to include new publications related to the contest. You only need to access your campaign and click on "Add more posts". 
You can select the winner or winners among the users that meet the following rules (you can select or leave empty the filters depending on the requirements): Participants who have liked and/or commented (one or both actions). If you choose comments, you can filter so the draw is made among those participants who have included a certain answer or comment.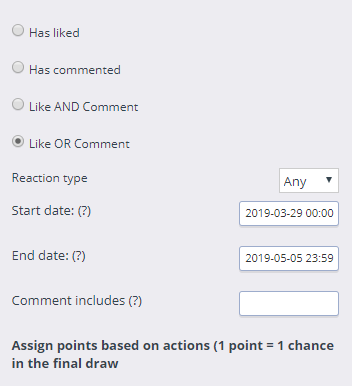 You also have the possibility to give extra ballot papers to those who have liked or commented or answered with a particular word. In a draw among comments, you can give ballot papers to those who have included a particular answer. Give extra ballot papers is available from our Gold Plan).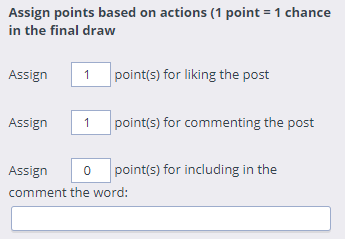 3. Other specifications. 
What are the advantages of WallPromo?
A list of participants: Every 'Like' and/or comments made in the post of the campaign will become a participation in our data pannel. 
Essential data for each participant: Each entry will contain the user name and url of Facebook. No further information is provided in these kind of sweepstakes on the wall.
Voting system for comments: If the comments of the participants have 'Likes', they also appear in the report of participation, which can serve as voting to elect a winner.
Download the list of participants: The paid version of WallPromo allows you to download a list of participants in .csv.
Winner Selection: Choosing the winner can be made in three different ways:
– Manual selection: Writing the name of the winners.
– Automatic selection: WallPromo makes a random drawing among all the participants and chooses the winner or winners.
– Selection filters: Based solely on the number of 'likes' that every comment has.


If you have any questions during the process, do not hesitate to contact us through help@cool-tabs.com
4. Related Content.
Start to create your Wallpromo now>>
How to Create a Direct Sweepstake on Instagram and Choose Winners >>
How to Create a Direct Sweepstake on Twitter and Choose Winners >>