1. Introduction.
Facebook Sweepstakes app allows you to manage a sweepstakes on a Facebook wall post of your fan page. You will be able to select the winner ot winners among users who have reacted (like or any other reaction) and/or among users who have commented on the post.
⚠️ Please take note that, since November 2014, Faceboook doesn't want users forced to become a fan just to win a prize in a sweepstekes.
2. Step by step.
2.1. Publish the post.
Publish the post on your wall. We show you an example: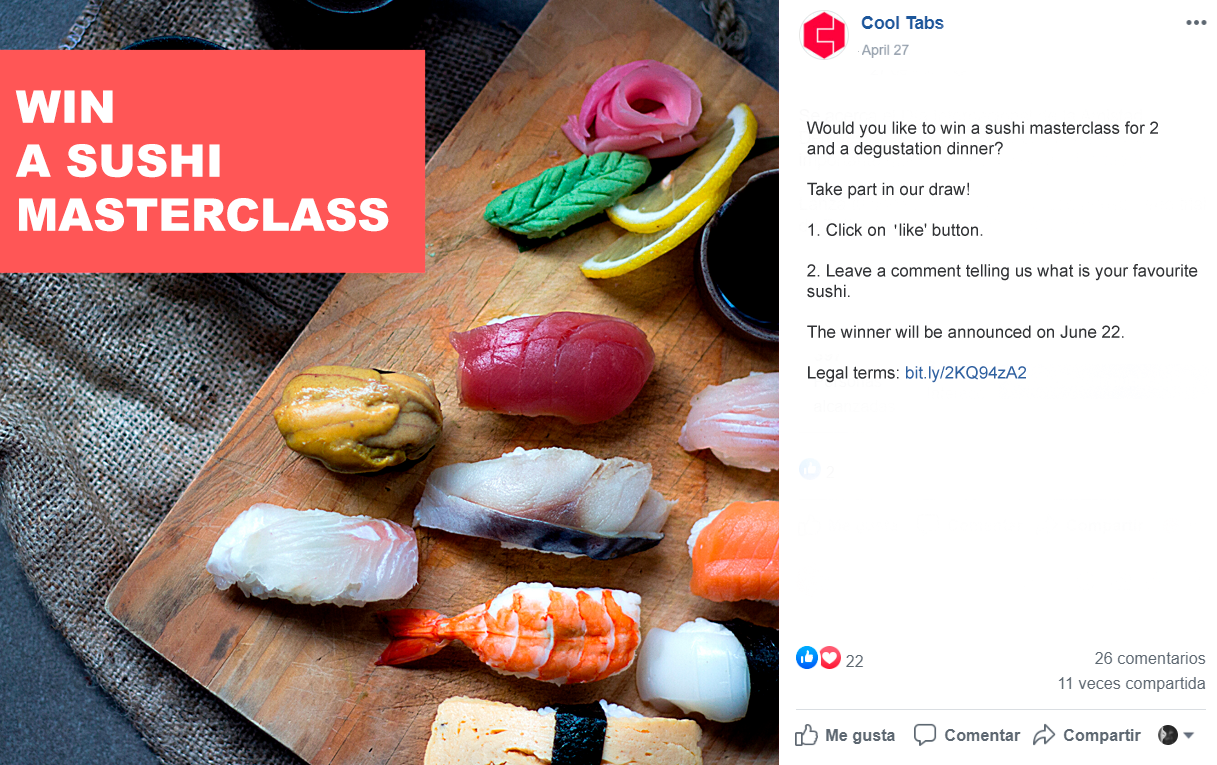 2.2. Create your Sweepstake on Cool Tabs.
Enter to Cool Tabs, create a new campaign and select the Facebook Sweepstakes application.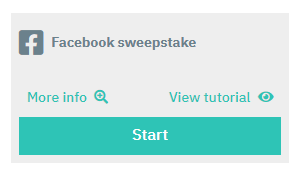 In order to collect information about your sweepstake publication, you need to associate your Facebook profile with your Cool Tabs account.
By linking your Facebook profile, all the pages you manage will be registered on Cool Tabs. So the next step will be to select the Facebook page where you have published the draw.

If the fanpage is not listed, click on 'I can't find my fanpage'. You will be redirected to Facebook to check if you have given us access to that fanpage. If you're still having trouble, please contact us at support@cool-tabs.com, so that we can help you.
After choosing the fanpage, a new screen will appear in which you will have to select the post (or posts) of your sweepstake. You can run the contest on one or more posts at a time.
In this screen you can specify a name for your draw, so you can identify it in the campaigns list. In addition, you can set the start and end date of the draw, as well as how users will participate (making 'like' in the publication, commenting on it or both).

Once you have completed these steps, the app starts to manage your sweepstake inmediately. If there had been any likes or comments before the creation osf your sweepstake with Cool Tabs, data would be collected without problem. Facebook Sweepstake app allows you to add new publications related to the contest. Go to the campaings list, find your sweepstake and click on the edit icon. Then on 'Add more posts'.

2.2. Select winners.
To choose winners, go to the left sidebar and click on 'Winners' section.

You can also access to the 'Winners' section from the main list of your campaigns. Find your sweepstake and click on the three horizontal stripes icon. Then click on 'Winners'.

When choosing the winner or winners you can filter according to the conditions of participation you set:
Click on "like" or on any reaction in the selected publication.
Comment on the publication.
Both: Click on 'Like' (or other reactions) and leave a comment.
You can also
filter by start and end date
, as well as give
only one chance per user or one for each comment
they have left. In addition, you can include only users who have commented with a specific word or words (separated by spaces) you have set.
You can select the winner or winners among the users that meet the following rules (you can select or leave empty the filters depending on the requirements):
We remind you that with our "Blacklist" functionality, you can block users to avoid them being winners.
Once you've chosen the winner/s,
you'll get a link to a public winners page,
so you can share the results with all your followers. You can also custom your winner's page with a custom header.
You also have the option to generate a winners video to show the result of your draw.

3. Other specifications.
What are the advantages of Facebook Sweepstake app?
A list of participants: every 'Like' and/or comments registered in the sweepstake post will become a participation in our data pannel.
Essential data for each participant: each entry will contain the user name and url of Facebook. No further information is provided by Facebook in these kind of sweepstakes.
Voting system for comments: If the comments of the participants have 'Likes', they also appear in the report of participation, which can serve as voting to elect a winner.
Download the list of participants: Facebook Sweepstake app allows you to download a list of participants.
Winner Selection: Choosing the winner can be made in three different ways:
– Automatic selection: WallPromo makes a random drawing among all the participants and chooses the winner or winners.
– Selection filters: Based solely on the number of 'likes' that every comment has.
If you have any questions during the process, do not hesitate to contact us through: help@cool-tabs.com
4. Related Content.
Start to create your Wallpromo now>>
How to Create a Direct Sweepstake on Instagram and Choose Winners >>
How to Create a Direct Sweepstake on Twitter and Choose Winners >>