3. Characteristics of discount coupons.
3.2. Basic elements of a coupon.
4. Where to configure your coupon.
4.1. Variables to customize the coupon instruction page.
1. Introduction.
In Cool Tabs, you have the possibility to generate a campaign to distribute coupons (and discount codes) to participating users. You can configure a fully customized design of your coupon, to suit the look & feel of your brand.
In this tutorial, we show you how to create and configure coupons in a simple way.
2. Ideas and examples.
The distribution of discount coupons is a widespread practice to encourage the purchase of certain products during specific periods. In addition, its distribution in online environments allows getting leads from potential customers, through data forms.
There are many scenarios in which you can deliver discount coupons to your audience. Here are some of the most commonly used online marketing campaigns to distribute coupons.
Registration forms with direct coupon distribution. This is a simple action in which the user gets his discount coupon in exchange for filling in a personal data form. Example: a beauty salon that encourages the purchase of its services with a discount coupon distribution campaign.
Instant Win Sweepstakes. These are campaigns of direct distribution of prizes (products, discounts, and other benefits), in which the user knows at the moment of participating if he/she has won and what the prize is. It is common that the prizes themselves are discount coupons, or that these are distributed by default to those participants who do not win. Example: a cosmetics brand launches a new product and generates an Instant Win campaign with prizes (product samples) and discounts to purchase it.
Spin the Wheel. Very similar to the previous mechanics. It is also possible to program the distribution of these coupons to users who do not win prizes. Example: e-commerce that embeds a Spin the Wheel campaign on its website with the distribution of benefits (different types of discount codes and other purchase benefits, such as free shipping and 2x1), to encourage the purchase of users who come to the site.
Surveys. It is also common to give them to users who answer an opinion or satisfaction survey. Example: a bus company that sends a satisfaction survey to a user days after traveling, to know their level of satisfaction and gives them a discount coupon to validate on their next trip.
Quizzes. It is also possible to give coupons in personality or knowledge quizzes, depending on the number of points or the result obtained. Example: a fashion brand that promotes its new collection with a personality quiz, to find out which garment should not be missing in your closet. At the end of the quiz, the participant receives a coupon for purchases in the new collection.


3. Characteristics of discount coupons.
3.1. Types of coupons.
When configuring your coupon, you can:
Distribute the same coupon/code to all participants. In this case, the code is reused.
Distribute different coupons/codes to each participant.
Distribute different codes to each group of participants. You can assign the codes based on participation conditions, for example, on the answers to a quiz or on the points they have earned.
Also note that:
If you choose to include a code in the coupon, you have a maximum of 2,000 free codes to give away.
Codes can be numeric or alphanumeric.
You can attach a downloadable PDF/JPG with the code obtained.
The coupons will be displayed on the final screens. These can be the result screens of a quiz (by points or by categories), the screens of an Instant Win (winners), or the final screen that is configured by default.
It is possible to send automated emails to the participants with the discount coupon.
3.2. Basic elements of a coupon.
The coupon must have the necessary elements for the user to know what benefit has been obtained and how to make it effective. Therefore, we recommend that you include:
Your brand logo. Do not forget to identify your brand or business.
Main image. The optimal size is 810 px wide by unlimited height.
Description of the prize or benefit obtained
Code
QR code (in case you want to include it)
Instructions for use/redemption
Validity date
In addition, you will be able to customize it, including other elements, which we indicate in the next point.
4. Where to configure your coupon.
The coupon configuration is done from the 'Coupons' section of the campaign editor. You must enable the option 'Enable discount vouchers.

To set up your coupon campaign, you can follow the steps in the following tutorial.
How to create a contest or promotion to give Discount Vouchers.
In coupon delivery campaigns, you have a section to customize the message that the participant will see when he/she gets the coupon. The field is intended to include the instructions for use and to customize the coupon page. You can include images, text, and HTML.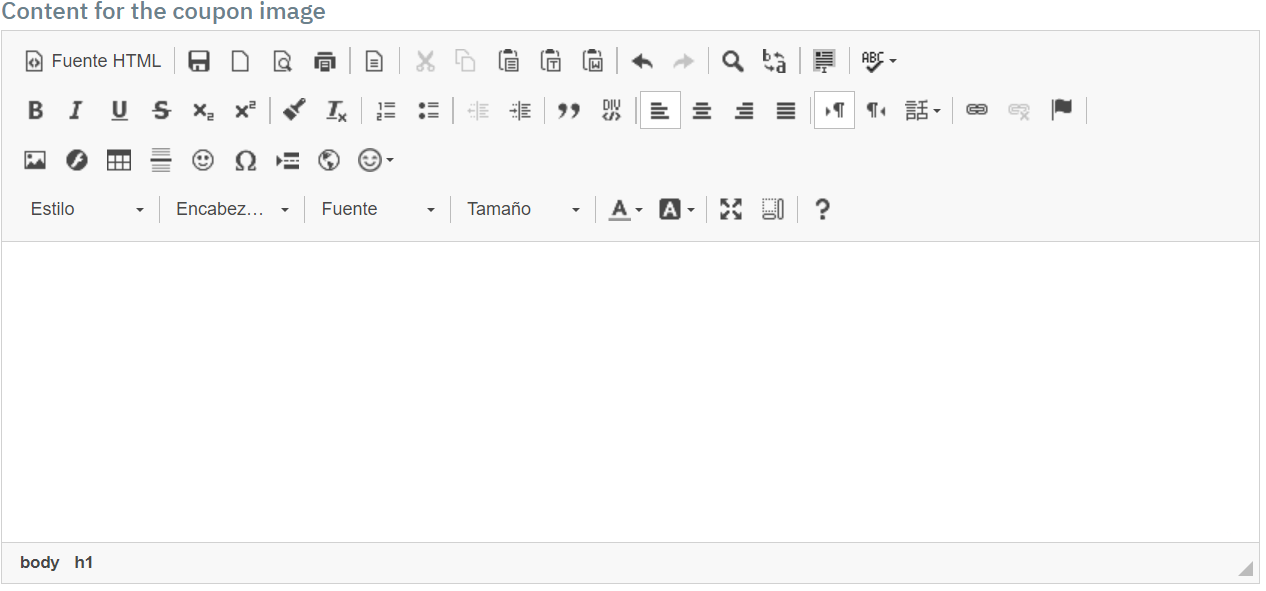 4.1. Variables to customize the coupon instructions page.
In the instructions for the discount coupon, you can include our advanced customization using variables. They will allow you to display, for example, the participant's name, the coupon number...
See all the variables supported by the coupon instruction page.
You can also include the custom HTML you need.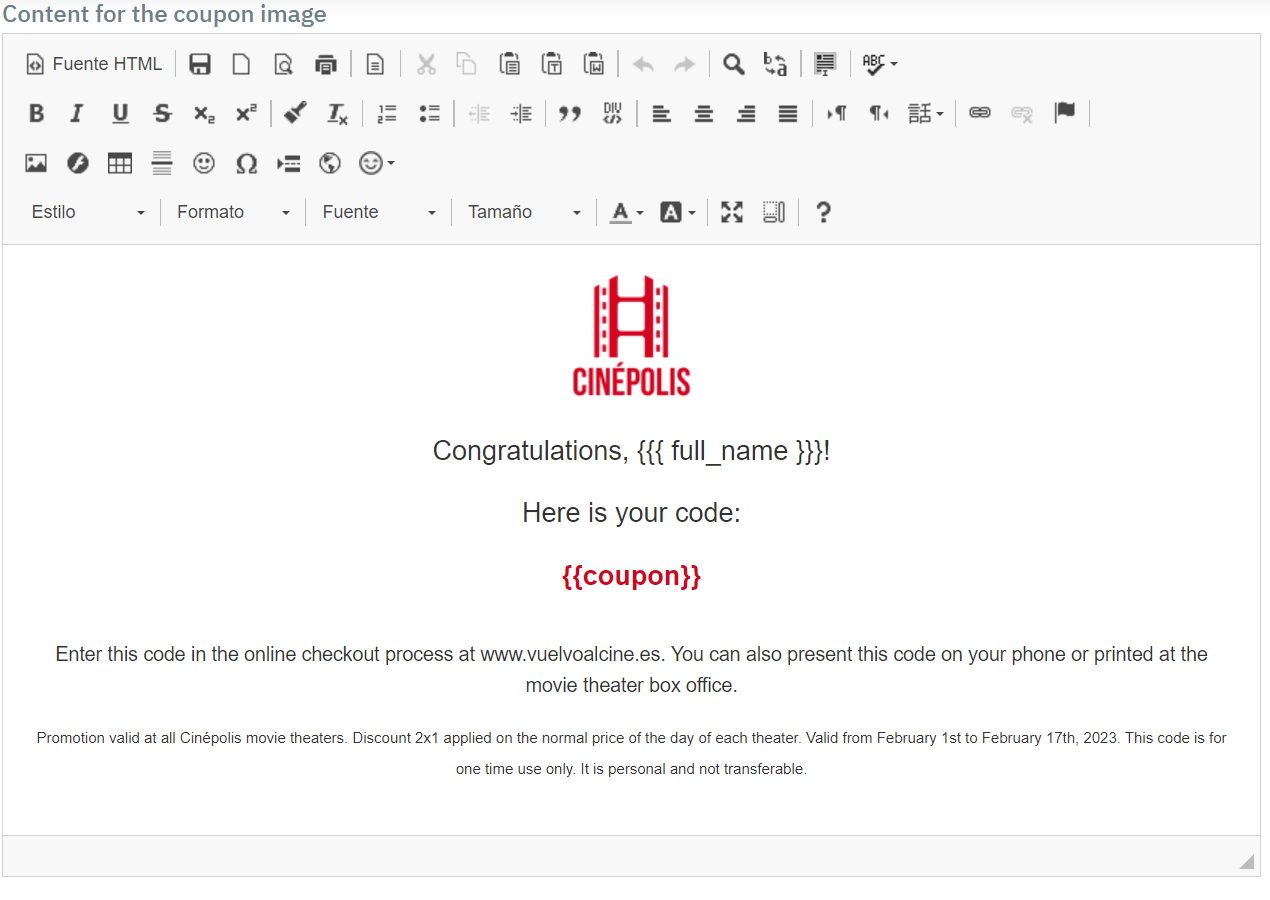 Below, you can see an example of a custom coupon.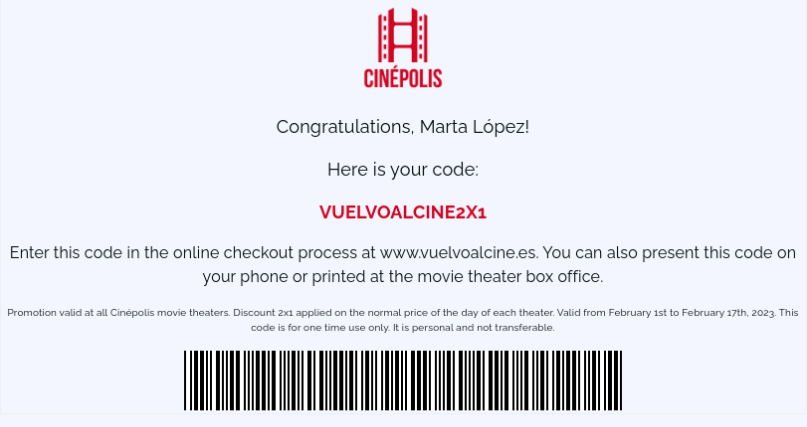 5. Other specifications.
The applications that allow you to create this type of campaign are Cool Promo and Cool Promo White Label, included in the Gold and Diamond plans, respectively.
Remember that you can give out 2,000 codes for free. If you want to give out more codes, these are the rates:
Up to 10,000 - 250 €/month.
Up to 50.000 - 750 €/month.
Up to 100,000 - 950 €/month.
Up to 500.000 - 1.850 €/month.
Up to 1 million - 2.500 €/month.

If you have any questions, please contact us at help@cool-tabs.com.
6. Related content.
How to create a campaign to give Discount Vouchers.
How to create a campaign to validate discount codes.
Advanced customization of a campaign using variables.