Instant Win campaigns, or campaigns with winning moments, can be linked to coupon distribution.
If you want to set up an instant win campaign with code/coupon distribution, the usual procedure is to activate the distribution from the 'Coupons' section of the campaign edition, enabling the checkbox 'Enable discount vouchers'.
From that section, you will have to upload the codes to be distributed and determine that only instant winners will receive them. Users who are selected as Instant winners will receive the code. All other users will not.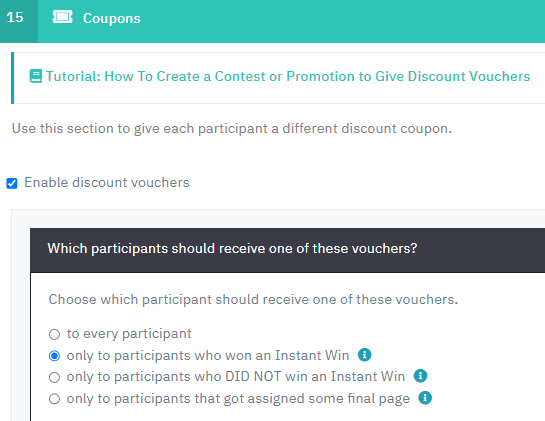 In these types of campaigns that involve giving out codes/coupons, you must take into account several aspects:
1) By activating the distribution of coupons in the campaign, the option to customize coupons will be enabled in each Instant Win that you configure.
This will allow you to give the winner of an Instant Win a specific coupon.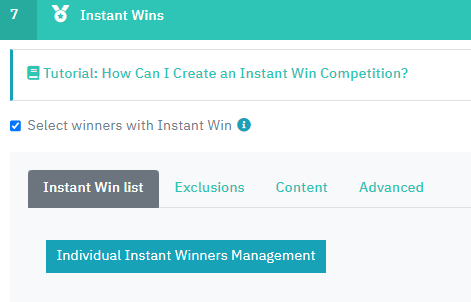 In addition, you can include a creative for the discount coupon page, which will be shown to the winner of this Instant Win. Take advantage of this field to provide instructions on how to use it.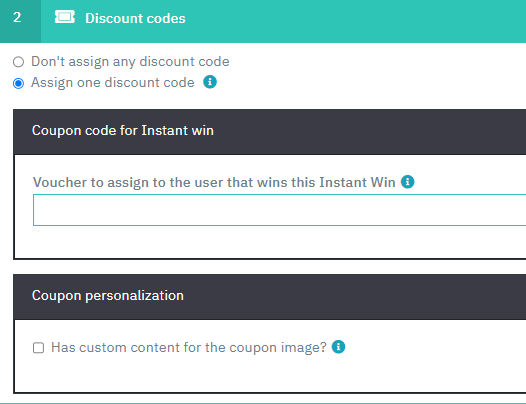 2) The Instant Win coupon (individual Instant Win screen) will be chosen over the general coupon uploaded in the "Coupons" section of the campaign edition. Both options can coexist.
Let's take a look at an example. We have a campaign in which we are going to give out three types of codes through Instant Wins:
The first are 10% discount codes and we make 500 copies. We upload the codes to the campaign ("Coupons" section). In this case, we will not activate the custom coupon on the customized screen for this Instant Win.

The second are 25% discount codes and we make 2 copies. Here we will activate "Assign a Custom Coupon" from the Instant Win's customized screen and assign the specific coupon.

The third is a single 50% discount code. Again, we will activate "Assign a Coupon" from the Instant Win settings and assign the coupon that will be given to this winner.
3) You only have to activate the coupon delivery on the individual screen of an Instant Win if you want to give out a coupon other than those already on the campaign list.
That means that if from the beginning, you set up the "Coupons" section so that codes are given out only to the winners of an Instant Win, you will not need to customize the coupons in each Instant Win.
Thus, in the "Coupons" section of the campaign edition, you will have to check off that it be given out "only to users who win an Instant Win".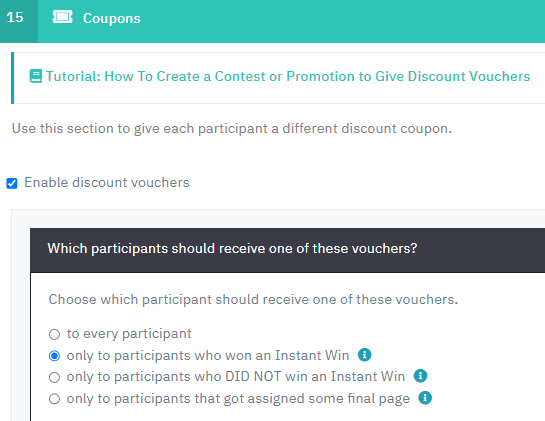 And in the customization of the Instant Wins screen, select "Don't assign any discount code".

Other specifications
If you have any doubts or questions during the process, please do not hesitate to contact us at help@cool-tabs.com
Related content
How to restrict the distribution of Instant Wins by region or postal code >>