You can run a ranking by points competitions with Cool Promo or Cool Promo White Label. 
Step by step.
We fill in the usual sections in the form to set up a promotion, i.e. the basic information (campaign name, tab name, etc.), where we can use the 'Description' field to give details of how our competition will work.
If we don't want to use the 'Description' field, we can also give an outline of the competition in the main image that appears in the next section entitled 'Promotion Design'. We should be especially meticulous with the campaign's main image, and the image and text that are shown after fans take part. For this campaign, the fans not only take part, but also have to score points for their viral actions. So, we must use these two fields to encourage them to keep participating in the competition. 
Virality score
This is the most important section in the competition setup for a ranking by points competition. It is where we decide how many points we give our participants for each viral action and which actions we give more points for.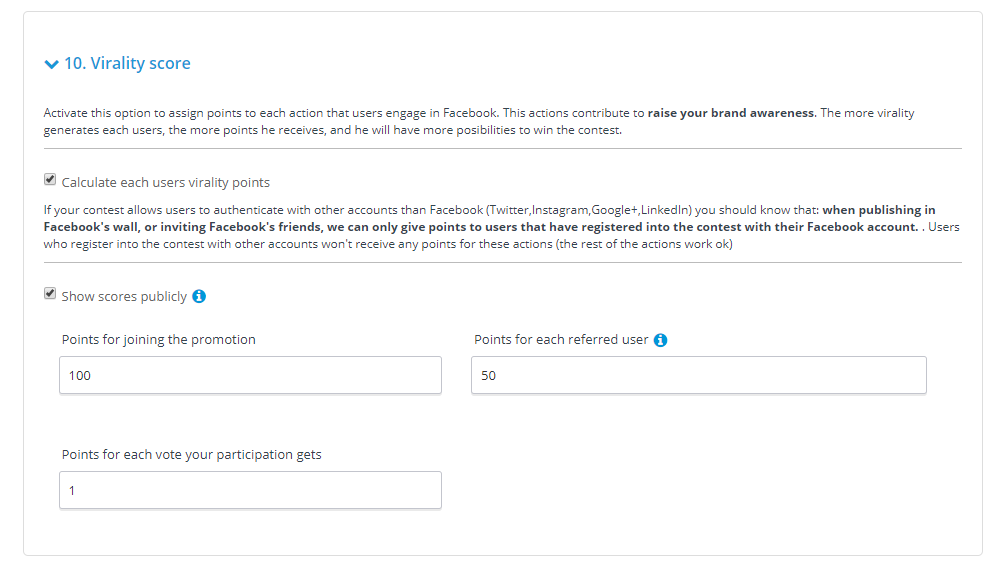 Go viral!
If you want the tweet button to appear on the main page of your campaign. We advise that you activate this as it is a good way of increasing the spread of your promo.
In this section, we would only have to fill in what we would like the tweet or post to say when users share the competition on Twitter, Facebook or Instagram. We can also add accounts that we would like the tweets or posts to be associated with, as well as the pop-up suggesting the participants to follow our different social networks. 
This last section is used for choosing whether to activate comments for the campaign; send an email to participants to encourage them to spread the competition to earn points; activate posts on users' walls or the 'share' pop-up that appears after having entered the competition; as well as configure the title and the text that appear when users share the competition or the fact that they have taken part in it. In this type of competition, this last part is especially important as it will attract potential participants and voters.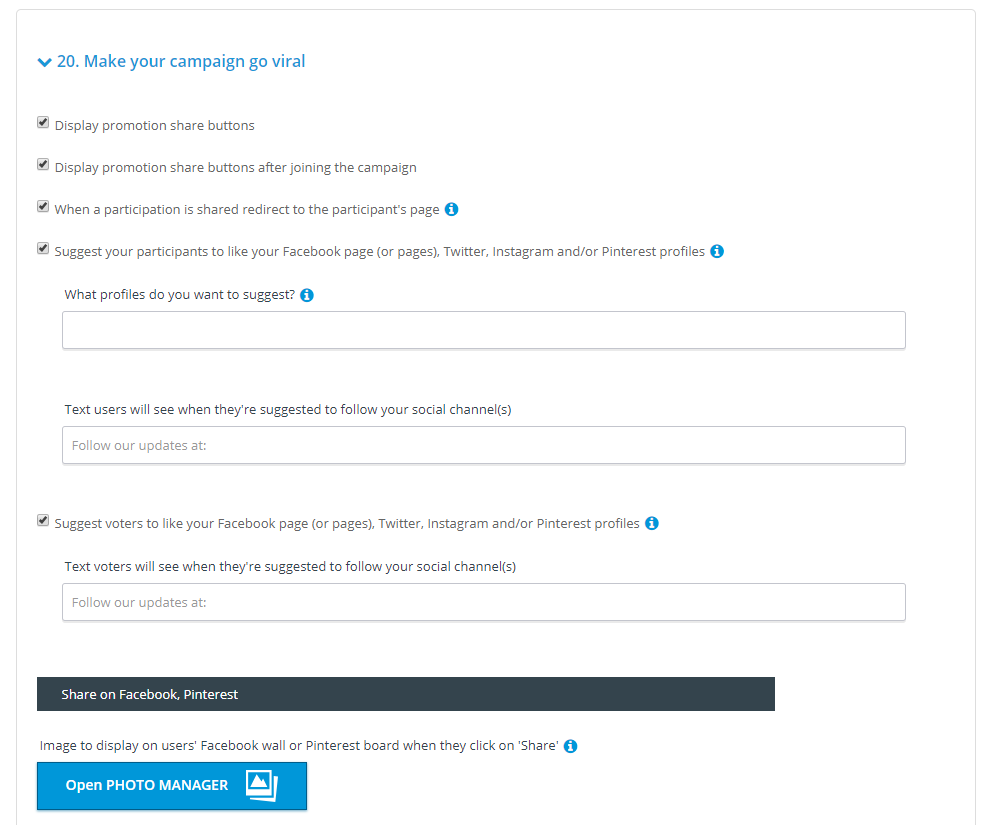 Once these fields are filled in, we can preview the competition, publish and activate it, and get our ranking by points competition up and running.
Fans who participate will see a final screen like the one below that can be accessed by clicking on 'View entry' on the home page of the campaign and on which the number of points scored can be seen:
Related Content.
Once you understand how it works, you can start to create your ranking by points competition with Cool Tabs.
Cool Promo White Label: Create Your White Label Promotion >>