1. Introduction.
The Cool Promo and Cool Promo White Label applications, included in the Gold and Diamond plans, respectively, allow you to enable anonymous login in your campaign. This means that participants can access the campaign without registering with a social network, but by writing their email address.
This option is compatible with the personal data form, to capture participants' data. In this case, the participant registers in the campaign with his/her email.
Participation will be completely anonymous when activating an anonymous login and not enabling the entry form.
2. Ideas and examples.
Satisfaction or opinion survey: you can set up a survey with anonymous registration, but enable the entry form in which you ask for data such as gender, zip code, city, province, or country.
Personality or knowledge quiz: it is common in digital media to generate interactive content as a quiz. Many of them lack a personal data form. Their purpose is to dynamize and not to collect data.
3. Step by step.
The anonymous login is configured in the 'Registration' section of the campaign edition.

When anonymous login is enabled, you have several configuration options.
1) Enable only anonymous campaign registration or as an additional option and compatible with social login (Facebook, Google, LinkedIn...).
2) Request personal data from users who register anonymously or not. If you want to know any data from users who register without any social network, activate and configure the form fields in the 'Entry form' section of the campaign editor.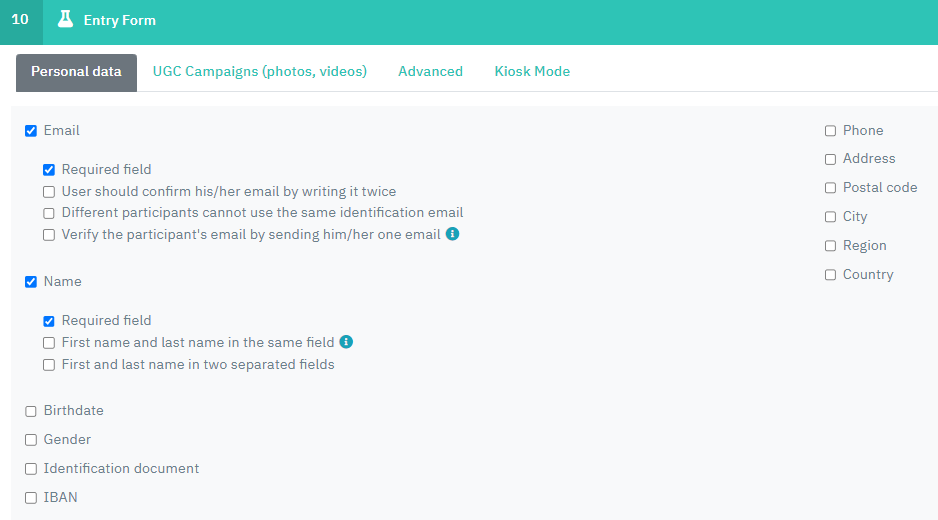 3.1. Advantages of anonymous login.
Better chance of conversion: anonymous login allows users who do not want to link their social network with the promotion or contest to register anyway and, therefore, become participants. It also offers a gateway for users who do not have social network profiles.
Lower entry barrier: with this new option it is easier for users to get to the participation form, as there is no permissions acceptance that can repel them, and they do not need to have a social network profile.
4. Related content.
How to enable social login in a campaign.
How to get started on creating a campaign: basic settings.