1. Introduction.
In this kind of promotion you can share with your customers different prices according to the codes that have already been developed and distributed (on the label of a product, purchase receipts, etc.)
When the customer has the code, should be sent to the campaign or promotion you've created with Cool Tabs and introduce his data and the code that you have given. Our platform shall approve if the code is right and will assign the prize to each participant. So the users will discover immediately if they receive or not the prize and in case of receiving it which has been awarded.
2. Ideas and examples.
You can use this topic on different occasions. Here you have some examples in the hope that they will be useful.
Share random prizes: if you want to share different prizes with specific codes that the others are not aware of. Hence, just, just, only a limited amount of the codes will be awarded.
Share prices for each purchase: You can give different codes, according to the amount of the purchase, and the customer who buys something. By participating in the campaign, it's possible to assign a prize according to the amount of the purchase.
Regard and enhance special customers. If you have a segmented database with VIP customers, you can share with them those codes that let them win more valuable prizes.
Prizes by location. Imagine, for example, the prize is some movie tickets. But these tickets are from different cities. In these cases, you can share the codes according to the city and assign the prizes depending on that.
3. Step by step.
3.1. Codes to distribute.
Prepare the codes to be distributed to your customers. If you need help, write to us help@cool-tabs.com.
3.2. Code assignment to the different prizes.
Before starting to create your campaign, you must choose and assign to each code the prizes you want to deliver.
For example, suppose you want to distribute movie tickets. You could assign The codes as follows:
There are three cinema tickets valid for Madrid. You assign them to codes 123123, 234234, 345345.

There are three cinema tickets valid for Barcelona. You assign them to the codes 456456, 567567, 678678.

You have distributed another thousand codes, but these have no reward. Furthermore, you wouldn't associate them with any prize.
Let's take another example. Imagine that you want to distribute discount vouchers on Amazon. You could do it like this:
There is a €100 discount voucher. You assign it to code X123.

There are three €10 discount vouchers. You assign them to codes XZ123, XZ234, XZ345.

There are ten €5 discount vouchers. You assign them to codes Y123, Y234, Y345, Y456.

You have distributed another thousand codes, but these have no reward. Therefore, you wouldn't associate them with any prize.
3.3. Campaign creation and configuration to validate codes.
Create a campaign with our Cool Promo or Cool Promo White Label apps. Choose the option "Enable coupons or code validation" and load the code file Valid (in Excel / CSV format).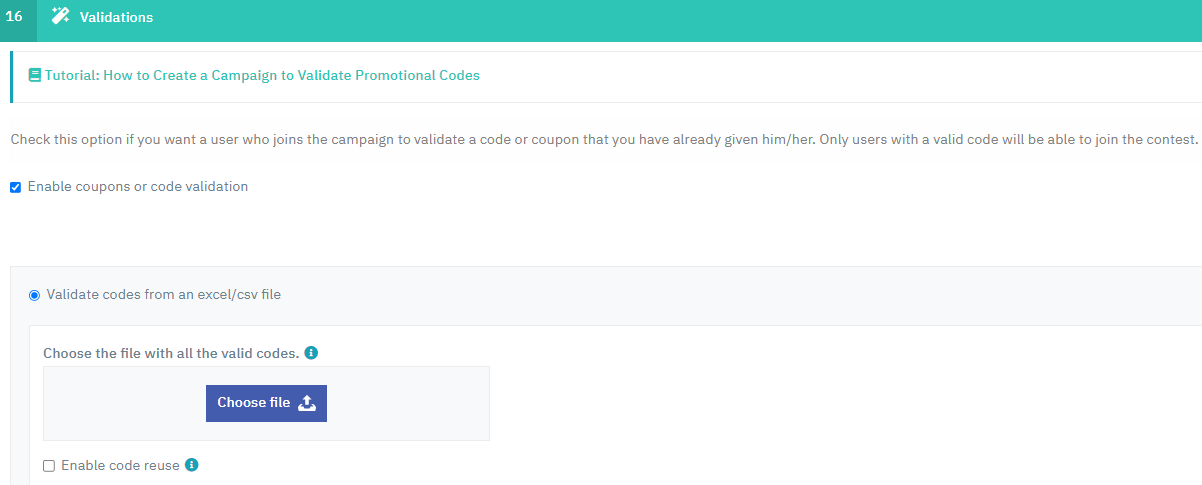 3.4. Configuration of the final screen of the campaign.
In the "Final screen after the user fills the form" section, enable the option '' and click on 'Individual final screen management'.

Once you do it, you can click on the "Individual Thanks Screens management". From this screen, you can assign different creativity to some (or all) of the codes, so that users who enter them get different rewards.
3.5. Management of each screen / individual prize.
Once you are in the "Screen configuration according to the results of the quiz", select the "Add new screen" button. Here, you must create as many pages of different results as coupons with different prizes you are going to distribute.
3.6. Configuration of the codes associated with each screen/prize.
In the "Conditions" section:
Enter a name to be able to identify the screen.

Fill in the "Codes that participants should enter to see this screen". The codes must be separated by commas, spaces, or lines.

In the "Design" section, introduce the design for the message that will be shown to the participants if they have entered that valid code. Once this is done, do not forget to save the changes.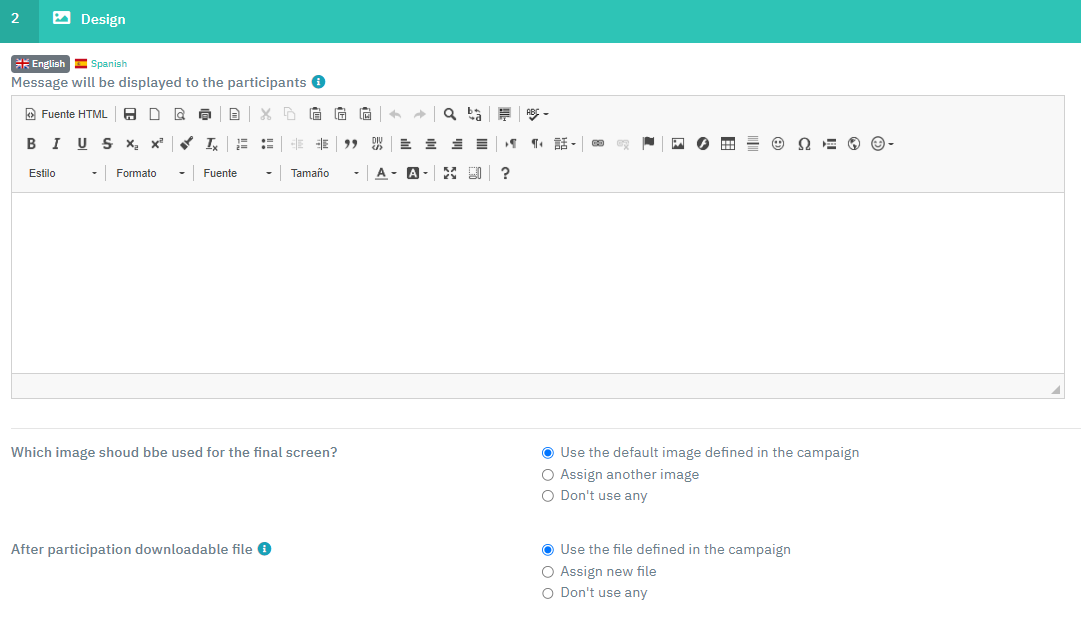 Repeat this process with each of the different pages of the prizes that you want to distribute according to the code entered. You already have it!
4. Other specifications.
This type of campaign is only available from our Gold Plan.
5. Related content.
If you are interested in creating a code campaign, these codes tutorials and coupons can be useful:
Before the participants validate their codes to obtain prizes in a coupon campaign, you must distribute them.
Launching a Contest or Promotion to Give Discount Vouchers >>
How to Redeem Discount Voucher Codes from your Clients >>