2.2. Configure the questions and answers.
1. Introduction.
Cool Tabs allows you to design a custom opinion survey or poll to learn about the needs, tastes, and preferences of your users.
You can set the number of questions you require, and combine different types of questions and answers (dropdown list, multiple choice, open-ended questions, etc.).
The Cool Promo and Cool Promo White Label applications, included in the Gold and Diamond plans, respectively, are the ones that will allow you to set up a survey.
You can also create your survey with the 7-day free trial, which allows you to test any of our plans.
2. Step by step.
2.1. Create your campaign.
First, you must create your campaign and configure the basic setting. Is it your first time creating a campaign with Cool Tabs? In the following tutorial, we will show you how to configure the basic sections of a campaign, as well as other recommended settings, to ensure its proper functioning and maximize results.
How to get started on creating a campaign: basic settings.
If you have any questions during the process, you can contact us at help@cool-tabs.com.
2.2. Configure the questions and answers.
Go to the 'Quiz' section of the campaign editor to add the quiz questions and answers.
In this type of campaign, neither points nor categories are assigned to the answers. Therefore, check the option 'I do not want to assign points or categories to the answers'.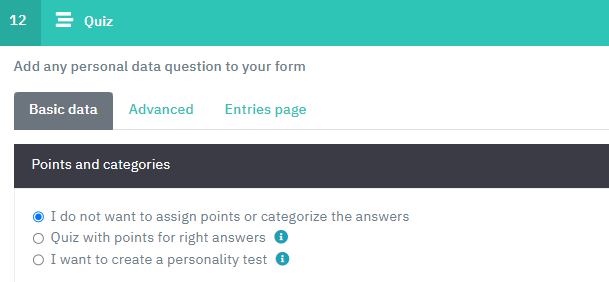 In this tab, you will also find the option to configure the quiz structure.

Display quiz questions on a different page and personal data on another. By default, questions quiz are displayed on different pages (step by step), and the personal data form is on another one.
Display quiz questions and personal data on a single page.
Display all the quiz questions on the same page and the personal data questions on another one. The option to display the data form before the quiz can only be set when all quiz questions are displayed on a single page. In quizzes step by step, where one question is displayed after another on different pages, the data form is always displayed at the end. The reason is very simple, it generates rejection and there is a high probability of abandonment. Because, if you ask for data at the beginning, and then the user has to answer endless questions, there are many options to abandon without completing it.
Check out the different types of Questions/Answers you can include in a Questionnaire or Survey.
2.2.1. Questions.
Next, you will have to add and customize the survey questions. Type the question in the corresponding field. If you wish, you can add a description. You can include as many questions as you want and decide whether it is mandatory to answer them or not.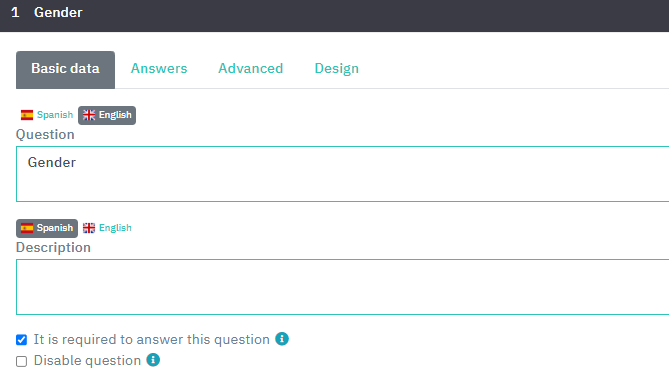 Questions can be of several types: text only, text + image...
In the 'Design' tab, you can customize the appearance of the question. You can display a video with the question, include an image accompanying the question (optimal size 300x168px) or display a background image in each question, so for each question of the questionnaire there is a background image (optimal size 810px x unlimited height (the height may vary depending on the number of answers).
2.2.2. Answers.
In the 'Answers' tab, you will have to configure the answer options. You can include as many answers as you want. And, depending on the type of answer you choose, you can accompany them with an image or video.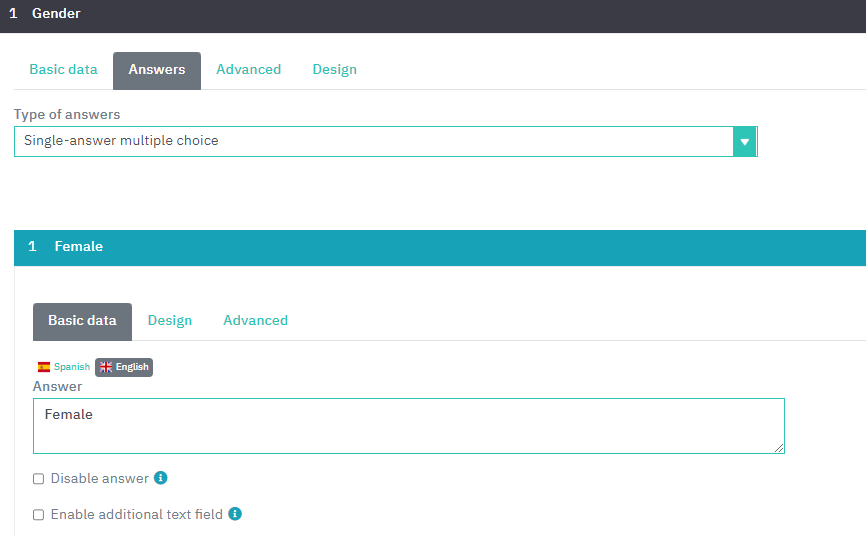 In addition, depending on the type of questionnaire you have previously selected, some options will appear or others. For example, the possibility of configuring feedback, switching between questions automatically when answering, seeing a summary of answers when sending, making the answers to the questions public, or having a time limit for answering.
Check out the different types of Questions/Answers you can include in a Questionnaire or Survey.
2.3. Other settings.
2.3.1. Winner selection.
If your survey is linked to sweepstakes, once the participation period has ended, you will be able to start the selection.
To select winners, you can consult the tutorial on How to select winners and obtain your Certificate of Validity.
3. Other specifications.
If you have any questions during the process, do not hesitate to contact us at help@cool-tabs.com
4. Related content.
Create now your Opinion Survey or Poll.
How to access the URL of your campaign to publish it.
How to create a Personality Test.