We tell you all the details of your Social Media campaigns so you find out more about the participants, the visitis, the profiles... You'll know which are the best sources, which time or day or the weeks are more participations... We also provide you a conversion funnel very useful to know which percentage of users finish your quiz. 
* Keep in mind that, once you finish a plan, Cool Stats will only be available for five more days.
How to see your campaign's Cool Stats
Access your campaigns and click the "Statistics" icon. 
Summary
You'll only be able to check the number of likes (if it's a Facebook sweepstake), the number of fans you've won over the period the campaign has been active and the number of participations and votes. 
If it's a Facebook or Twitter campaign, you'll also be able to see the number of fans you had before the campaign started and the fans you've won in this period of time. 
Participations 
1. Participations data 
The first chart of this section shows two different data: 
Participacions

: Total number of participations and from which sources they come (inside the url personalized campaigns you've created). 

Referred participations:

Those which come from the viral actions of other participants. 
2. Conversion / Unique users
3. How many participations have been each hour of the day
4. Hoe many participations have been each day of the week 
5. Users who got more referrals 
This chart shows the email, name of ID of these users. 
6. Users who access the campaign and how they do that 
Participacions from mobile devices or PC

Referred participations 

Participacions from the different channels where the campaign has been published:  

otros canales diferentes a la Not your fan page or microsite. 
7. Adquisition sources
8. Daily participations from each source
Daily evolution of the sources from which the participants come. You can click on each one to see the evolution. 
Visits
1. Campaing visits
It represents the visits, seen pages and unique users. We can see it on detail by filtering by days. 
2. Visits referred by users 
It shows the participants who brought more visits to the campaign through their viral actions.
3. Visits each hour of the day 
4. Visits each day of the week 


5. Hoe do visits get to the campaign 
Direct visits vs referred visits

Visits from mobile devices
6. Visit sources 
7. Daily visits from each source
Votos
Check out the stats of your votes if you activated this option in your campaign. 
1. Votes and fans got through votes (referred fans)
2. Votes conversion /unique users. 
3. Votes each hour of the day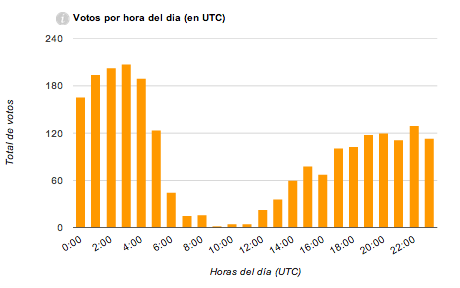 4. Votes each day of the week 
5. Users who got more referred votes
By publishing the link of their participation on the wall or sending invitations (these referred voters become effective 48 hours after the user has sent the invitation or published the link)
6. Who votes and how 
Votos from mobile devices

Referred votes

Votes from other channels
7. Sources of the votes
8. Daily votes from each source
Conversions
From the landing page |  From the participants page | Total
1. Total conversions 
We can see how many visits there have been in our campaign and how many of them have become participations.

 A conversion funnel
Viral data (number of times the users have shared their participation on Social Media)
2. Sources of the conversion 
3. Conversions for campaign 
Visits, tottal conversions and percentage of global conversion of each personalized url campaign. 
Noe, you can check tour ROI more easily than ever.
*Cool Stats no está disponible para las campañas creadas con la aplicación Cool Promo Lite.