3.3. Configure the participation form.
3.4. Customize the final screens.
1. Introduction.
With our Cool Promo or Cool Promo White Label apps, included in the Gold and Diamond plans, respectively, you can create a campaign in which participants have to validate codes, that you have previously distributed, in order to participate.
In this way, participation is restricted to only users who have a valid code. The code can be unique for all customers or it can be a personalized code.
The validation of this code, through the campaign registration form, gives the participants access to the promotion and the possibility of winning prizes or other benefits that you want to distribute to them.
If you want to create a campaign in which you give out coupons or promotional codes, see this other tutorial.
2. Ideas and examples.
This type of campaign is part of loyalty actions, which seek customer loyalty. In addition to rewarding your customers' trust, it will help you encourage them to buy and allow you to capture leads. It is also an excellent way to combine offline-online actions.
The participation dynamics of a code validation campaign is simple since it consists of a registration form in which the user introduces the code to be validated. However, it can be combined with other types of mechanics, such as a quiz, a survey or an instant prize roulette, which will make it more attractive.
3. Step by step.
3.1. Create your campaign.
Access Cool Tabs and create a new campaign. Select the Cool Promo or Cool Promo White Label application, depending on your plan, Gold or Diamond, respectively.


You must complete the first sections of your campaign (registration, basic information, design, dates...). If you have any questions or doubts during the process, don't hesitate to contact us at help@cool-tabs.com
We'll also leave you with these tutorials where we explain what you can include in each section in greater detail:
Cool Promo White Label: create your campaign or contest in White Label >>
Cool Promo: create your campaign or contest >>
3.2. Upload the codes.
In the 'Validations' section, activate the option to validate coupons or codes. You must upload the codes in an Excel or CSV file. The file must have one code for each line.
These are the codes that users must enter to participate. So that, when they enter them in the registration form, the application will consider them as valid.
You can upload for free up to 15,000 codes. If you need to upload more, please write us at help@cool-tabs.com

If the codes are repeated, just activate the option "Enable code reuse".
Enable code reuse. With this option enabled, every coupon or code can be reused multiple times by different participants. If not enabled, each code can be used only once in the campaign, so the max number of users that can join the campaign will be the total number of codes you have introduced.
3.3. Configure the participation form.
In the 'Form' section of the campaign edition, you can specify the fields to be completed by the participant. If you need to add any extra field or question you have two options to include it:
From the 'Quiz' section. The question or field you include will appear before the personal data form.
From the 'Custom entry form' section. In this case, it will be displayed at the end of the personal data form.

Don't below, you can see an example of a participation form in which users have to fill in their name, surname and email, and in which, in addition, code validation has been activated.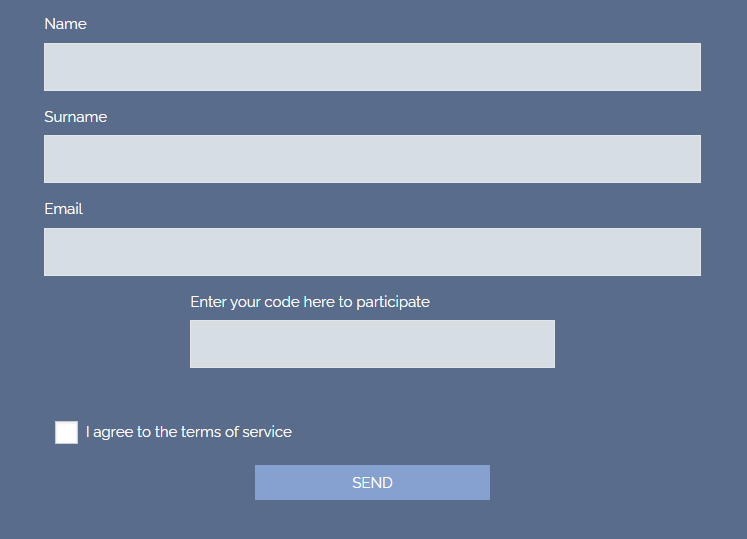 3.4. Customize the final screens.
Once you have the codes loaded on the platform, go to the 'Final screen' section.
Check the box '' to configure a default message for participants. This is the message that will be displayed to all participants who enter their code or, in case only some codes are awarded, to participants with non-awarded codes. You can include text, images or HTML code.

To configure personalized messages for each code or for certain reward codes, you must enable the option 'Content-based on gamification, quiz results (point or personality tests) or validated coupon''. If you want to dole out prizes according to the code entered by the participants, check this tutorial.
4. How to select winners.
Cool Tabs allows you to run a sweepstake among the participants of your campaign. You can distribute prizes or other benefits depending on whom you want to reward.
Random draw among all participants who have entered their code. In this case, see the tutorial 'How to select winners'.
Link prizes to certain codes, so that only participants who enter winning codes win.
Condition the prize distribution to instant win moments. Participants will only be winners if when they complete the data form and enter their code it coincides with the moment when you have programmed the prize distribution. Check the tutorial 'How to create a Scratch & Win instant win contest'.
5. Other specifications.
- This type of campaign is available from our Gold plan.
- Bear in mind you can upload 15,000 codes for free. If you want to upload more codes, these are the rates:
Up to 50,000 - €150/month
Up to 100,000 - €280/month
Up to 500,000 - €480/month
Up to 2 mills - €680/month
Up to 5 mills - €980/month
6. Related Content.