1. Introduction.
With our Cool Promo or Cool Promo White Label apps you can create contests with different and multiple mechanisms: photo contests, videos, stories, etc. But you can also use them to create a quiz or questionnaire composed of dynamic questions and answers.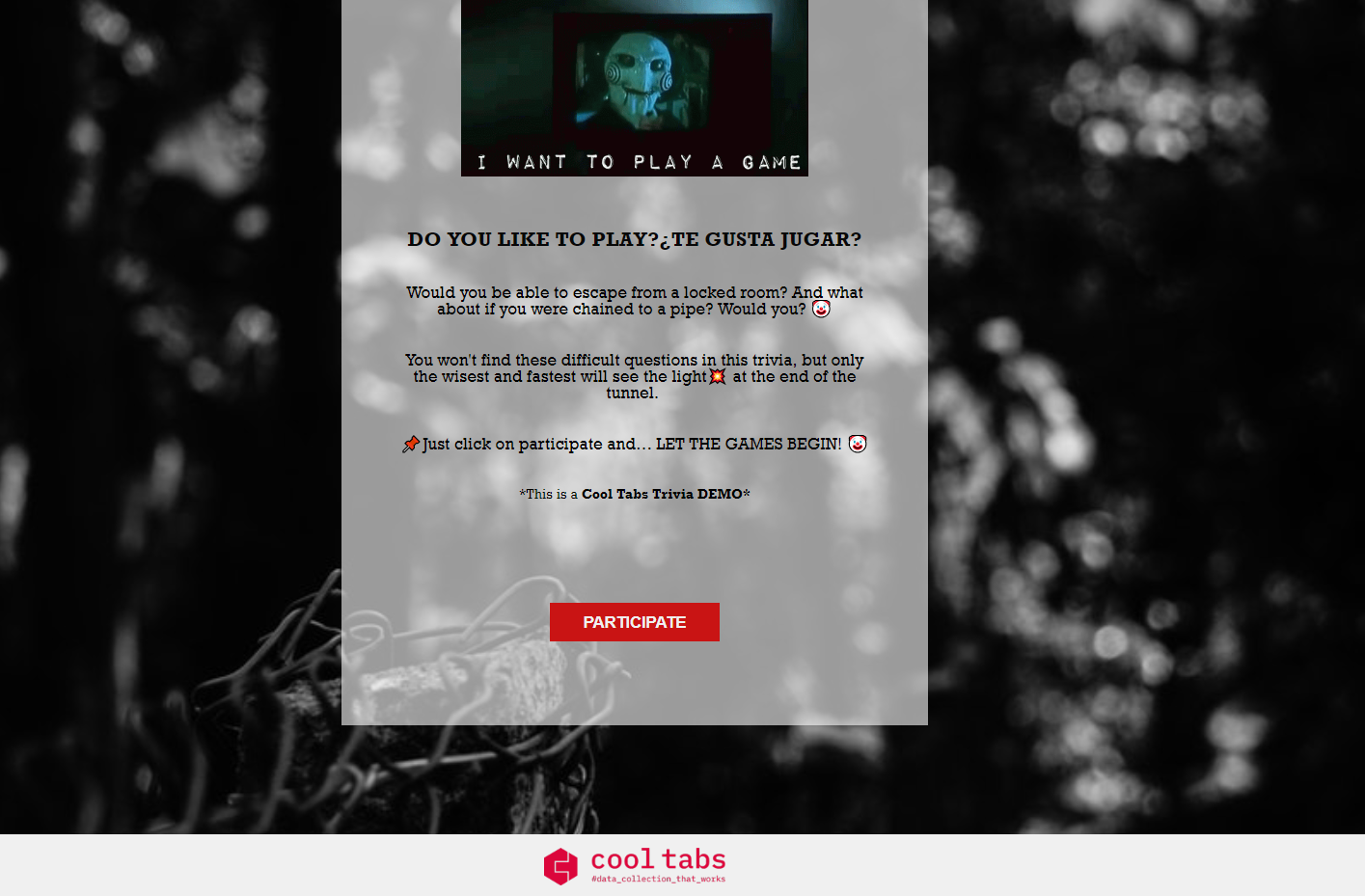 2. Step by step.
2.1. Create your Cool Promo.
Access Cool Tabs, create a new campaign and select the Cool Promo or Cool Promo White Label app.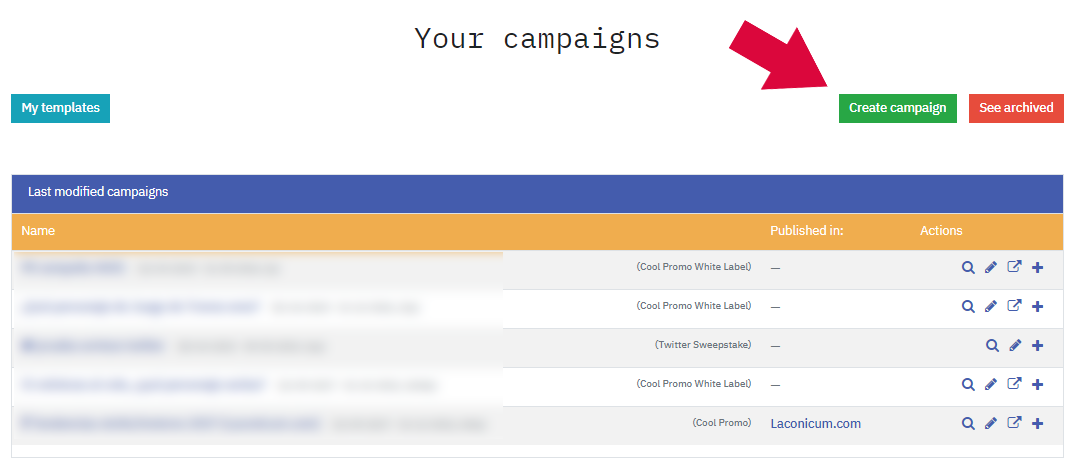 From here we will be completing the first sections of our campaign (Campaign Login, basic information, design, dates ...) until we reach the "Quiz" section. If you have any questions or queries during the process, do not hesitate to contact us through help@cool-tabs.com
We also leave you these tutorials in which we explain in more detail:
Cool Promo White Label: Create Your White Label Promotion >>
Cool Promo: Create Your First Promotion or Competition >>
How can I include this option?
All options related to the creation of a quiz or questionnaire on your promotion are included in the section: "Quiz" or "Custom questions and answers (Quiz, Trivia, Tests…)" on the applications Cool Promo or Cool Promo White Label. In this post we explain all of them.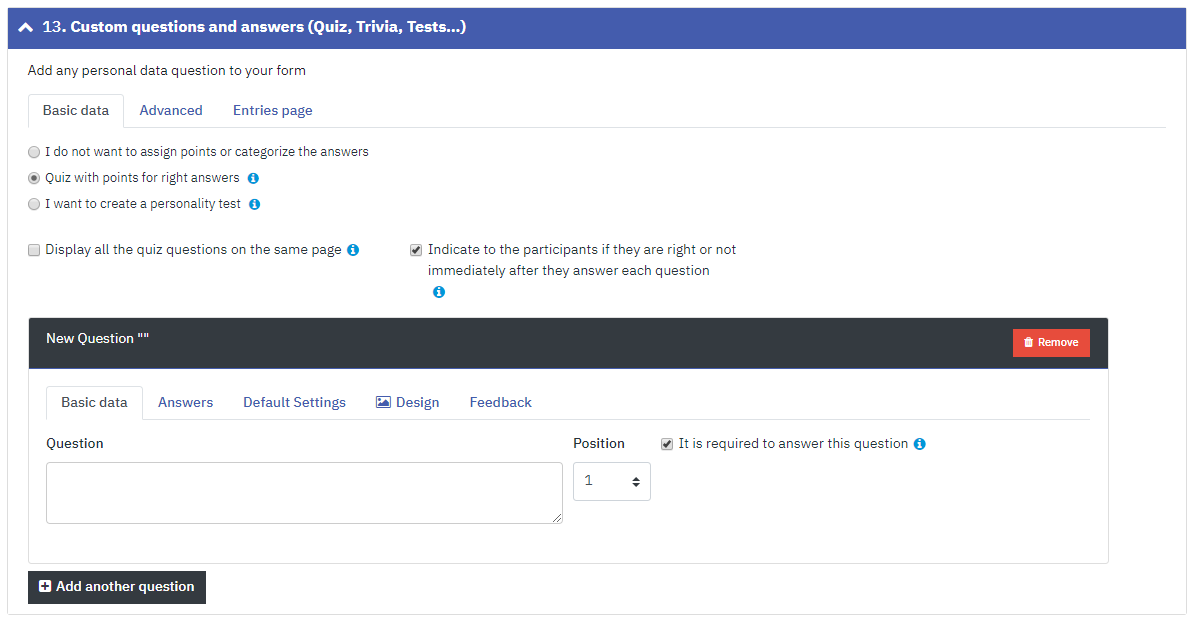 Display all the quiz question on the same page: If you check this option, the entry form and the questions you set in these section will be displayed on a single page. If you do not check it, the questions will be displayed one on each page, with buttons to continue to the next question.
Show user answers to everyone (public): Enabling this option means that responses marked as 'public' will be shown to everyone. It is usual that responses where creativity or participant opinion is required are made public, but not those that involve answering something correctly.
Automatically go to the next question: this option makes the quiz more easier, because users will not have to go clicking "Next" to move on to the next question.
The following three points allow you to determine what type of quiz you wish to create. You can only mark one of the three options:
I do not want to assign points or categorize the answers.
Quiz with points for right answers.
I want to create a personality test.
If you check the option "Quiz with points for right answers", the following options will be displayed:
Indicates to the participants if they are right or not immediately after they answer each question. When users choose and answer as correct, you can tell if they are correct or not. In addiction, this option will let you add a text for each right or wrong answer and upload an image that will replace the question image. Activating this option, below, we will see two fields of "Text to be displayed if the participant is right/fail", in this way, we could give a response to each response.
Show own score to participants: Participants can see the total number of points that they have in your questionnaire.
Show scores publicly: If you enable this option, any user can see the scores of any participant.
Number of random questions: This way, you can select a set of questions and decide how many of them will be asked to each participant. The application will randomly select the number of questions you wish. This will allow you to create a different participation quiz for each participant in the competition.
We can also give feedback in any other case (a personality test or a quiz without points), activating the check "Feedback message after answering", as it appears in the following screen: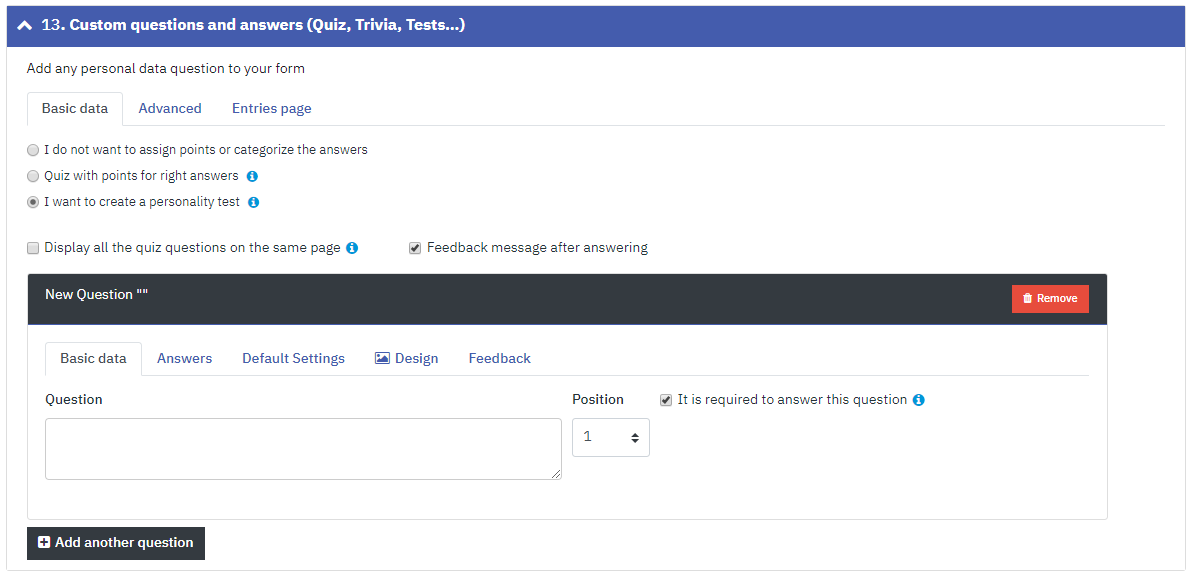 When participants submit their answers, they will see a summary of the answers of all participants. Once participants send their entries with the chosen answers, they will see a page with a summary of the answers the other participants have chosen.
Display a public page with the summary of the answers chosen by all the participants. You can check the URL of this results page from the internal information page corresponding to your campaign.
In the "free text" answers, the administator can assign points/categories to each answer, so if the participant write the answer, he'll get those points.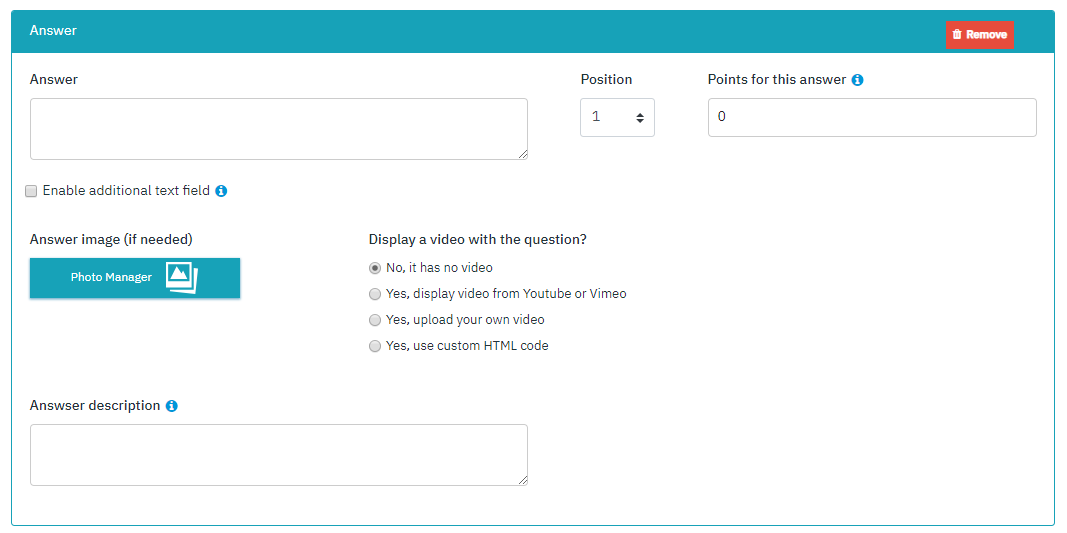 About the quiz questions.
You can include the number of questions that you need and decide whether it is mandatory to answer or not, whether the answers to that question are public or the dates by which the questions are displayed to the participants.

It is mandatory to answer this question: If you activate these checkboxes, it will become a prerequisite to answer the question to complete the entry. If you don't activate them, users can submit their entry without responding.
Answers to this question will be public (visible to everyone): You can decide whether each response will be made visible to everyone or not, since there may be information that you do not want to be visible to everyone (for example, personal details, or the correct answer to a question that is asked of all entrants).
Show this question on the form between certain dates only: If you are creating a competition that is to be split into phases or if you just want certain questions to appear only on the entry form on certain dates, you can configure that in this section.
Give points for answering this question correctly: If the question you are setting has one correct answer, you can assign a score to respond properly. The score may be different for each question by value or difficulty.
Questions can be of two types:
Only text, meaning only include the question itself. Example: "What is your favorite item from our new collection?"
Text + Image: This type is often used to guess what or who appears in the image, but it can be used for any type of question in which the image provides information. Example: "What brand is this bag?" + Image of a bag of Lancôme.
About the quiz answers.
Find out this tutorial: Different Type of Questions/Anwers you can include in your Questionnaire or Survey >>

Personalized messages according to the number of points obtained in the Trivia or according to the most chosen category of answers.
In the "Final screen" section you can choose the type of message you want to show to the users when they participate, whether you want the same message by default for all the participants, or if you want a different message to appear according to the results of the quiz (for points or personality test) or according to the code to validate.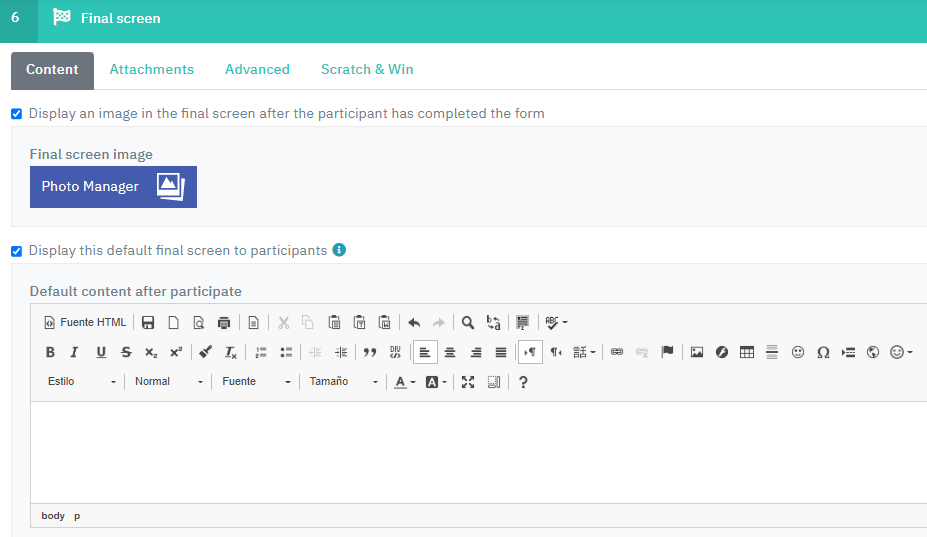 You can configure personalized screens that will be shown to the participants who complete the trivia. To do this, enable the option '' and click on 'Individual final screen management'.

Limit the time to complete the survey.
If you want participants to answer the questions with a time limit to prevent them from looking up answers or thinking too much, you can include a response time limit. This option can be found in the "Entry form configuration/Advanced" section of your Cool Promo or Cool Promo White Label. In this field you can include the maximum time (in seconds) that people will have to send their completed participation.

3. Other specifications.
We remind you that for a user to get a referral, they must complete the contest, otherwise they will not count as a referral.
If you have any questions, do not hesitate to contact us through help@cool-tabs.com
4. Related content.
Create your Personality Quiz with Cool Tabs >>
How to create a "Choose your Favorite" Contest >>
Different Types of Questionnaires Which Can Be Run with Cool Tabs >>