1. Introduction.
An opinion poll can be very useful when you want to know the opinion of your clients in the face of a new opening, feedback about our product/service, an opinion about our brand...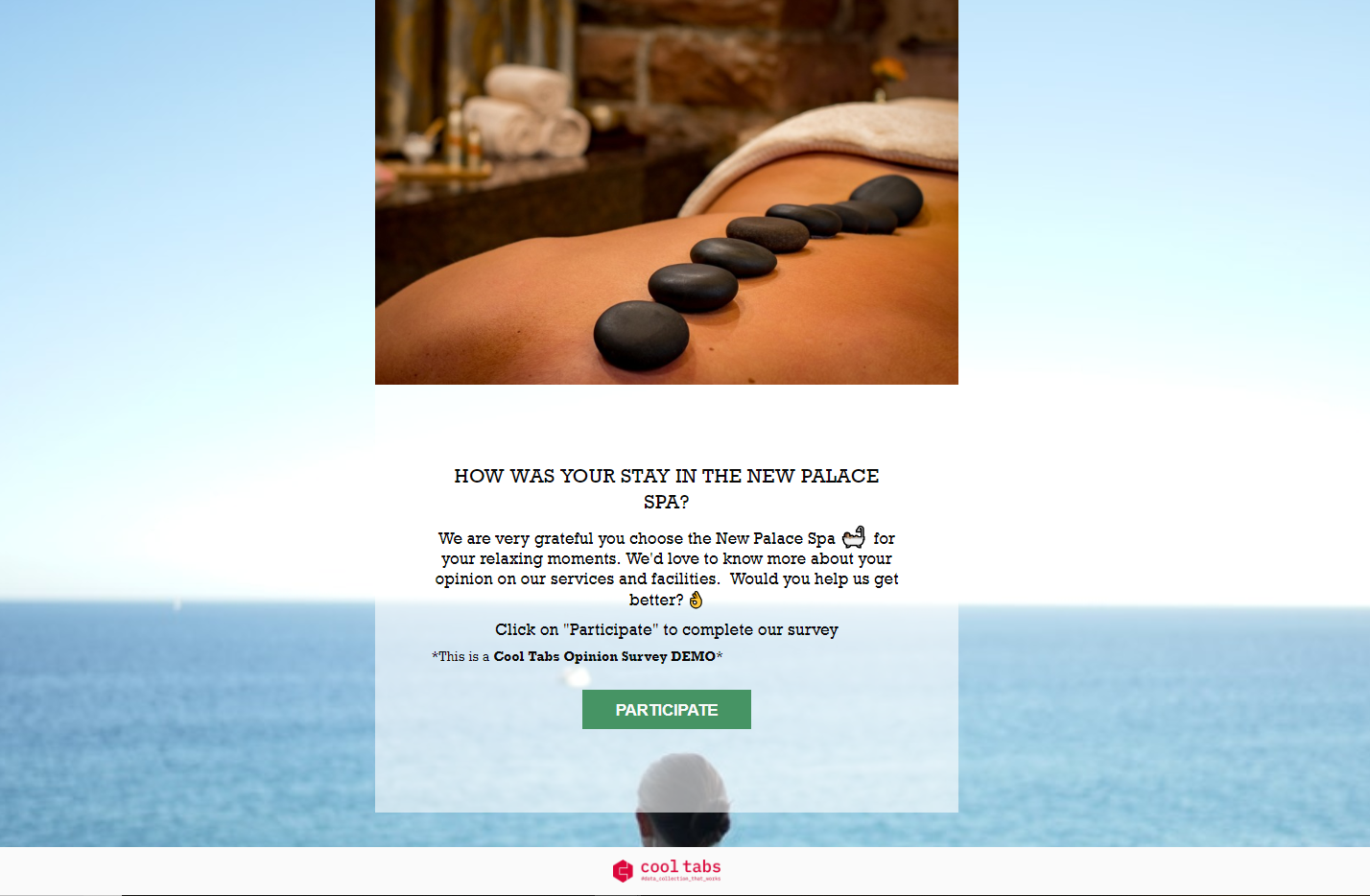 2. Step by step.
2.1. Create your Cool Promo.
Access Cool Tabs, create a new campaign and select the Cool Promo or Cool Promo White Label app.


From here we will be completing the first sections of our campaign (Campaign Login, basic information, design, dates ...) until we reach the "Quiz" section. If you have any questions or queries during the process, do not hesitate to contact us through help@cool-tabs.com
We also leave you these tutorials in which we explain in more detail:
Cool Promo White Label: Create Your White Label Campaign >>
Cool Promo: Create Your First Campaign or Competition >>
For an opinion survey, it is recommended that in the "Campaign login" section we activate the "Anonymously" login option.
2.2. Entry form configuration.
In the "Entry Form" section we are going to define the data that we want the users to fill out in the form of our campaign. In the DEMO of this dynamic test users have to complete the following fields: email, name and surname, gender, phone, zip code and city. We can add other fields such as the DNI, the IBAN, the date of birth, etc.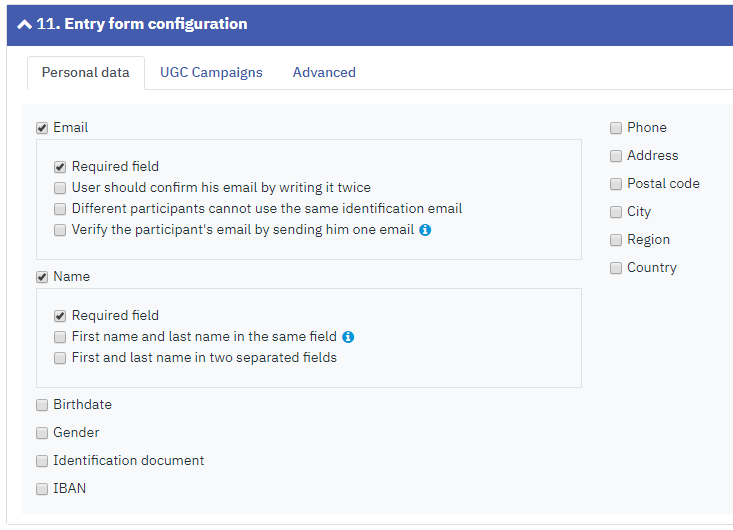 2.3. Define the questions/answers.
The most important section of an opinion poll is "Quiz". This section is destined to write the different questions of the questionnaire.
Do not miss this tutorial in which we have more detailed information about what types of questions / answers you can include in a quiz or survey.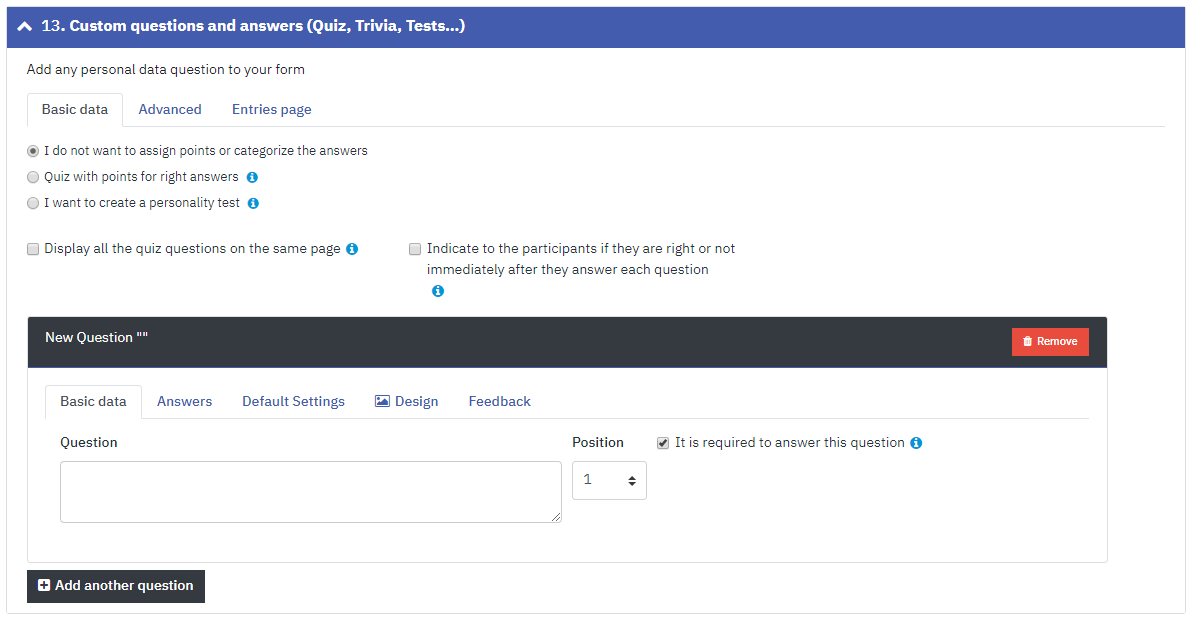 Questions can be of two types:
Only text, meaning only include the question itself. Example: "What is your favorite item from our new collection?"
Text + Image: This type is often used to guess what or who appears in the image, but it can be used for any type of question in which the image provides information. Example: "What brand is this bag?" + Image of a bag of Lancôme.
About the quiz answers.
Find out this tutorial: Different Type of Questions/Anwers you can include in your Questionnaire or Survey >>

2.5. Make your campaign go viral.
The next most important section when creating a personality test is viralization, entitled "Go viral!". You can activate the option to recommend your social profiles to participants, highly recommended option, if you want to increase the number of followers.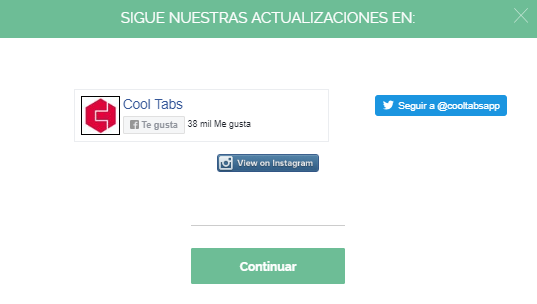 3. Other specifications.
If you have any questions during the process, do not hesitate to contact us through help@cool-tabs.com
4. Related content.
Create now your Opinion Poll or Questionnaire with Cool Tabs >>
Create your Personality Test with Cool Tabs >>
Different Types of Questionnaires Which Can Be Run with Cool Tabs >>