In Cool Tabs, you can generate and customize different types of questionnaires.
The Cool Promo and Cool Promo White Label applications, included in the Gold and Diamond plans of the platform, respectively, allow you to create a wide variety of questionnaires.
You can also create your questionnaire within the platform's 7-day trial, which allows you to try any of the plans, free of charge and without limitations.
Here are the types of questionnaires you can configure and customize.
2. Types of questionnaires, quizzes or surveys.
2.1. Quiz with points or trivia.
Test your users with a knowledge or trivia quiz.
You can set points for each correct answer and show the total number of points scored by each individual participant, or display the scores of all participants publicly. The platform will automatically calculate the points scored by the participant. The score does not have to be the same for all questions, as some questions may be more difficult than others or more important to win the final prize of the contest.
Different question-and-answer formats are available. Customize the questions and answers with multimedia content (image, video, and GIF).
In addition, you can give feedback to participants after answering and display a different final screen, depending on the number of correct answers.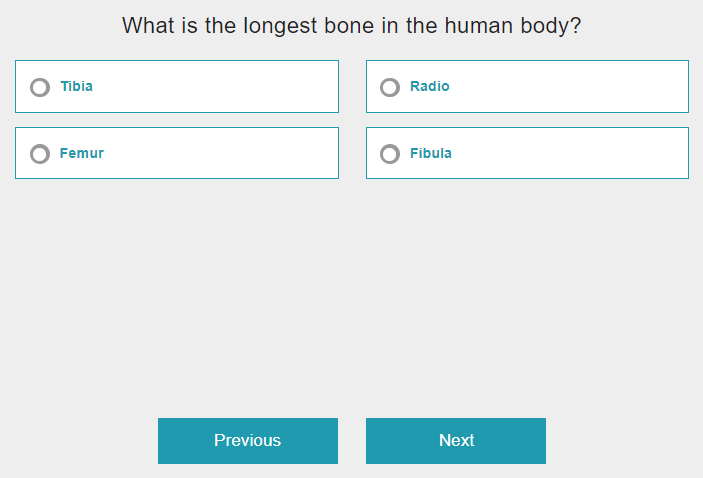 How to create a knowledge quiz or trivia.
2.2. Personality test.
Create a quiz in which the answers are classified by categories (A, B, C, D...). In such a way that depending on the majority of answers of one type selected by the participants, a final screen will be shown with one result or another.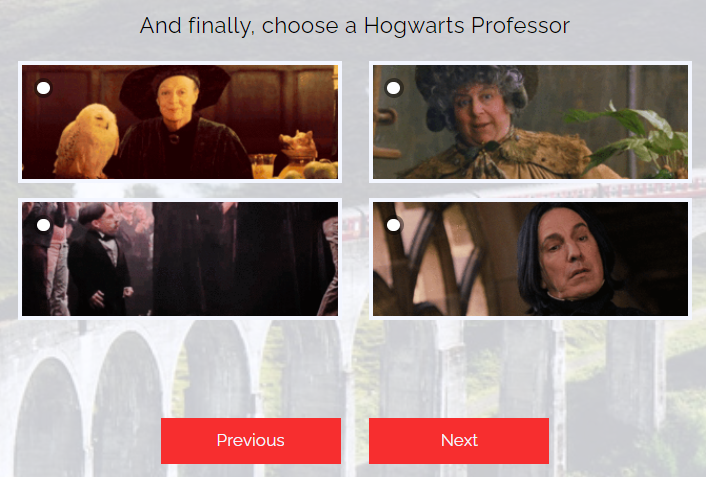 How to create a personality test.
2.3. Opinion Survey.
Collect information about your users' opinions about your brand, your industry, or any event or topic. Design a simple opinion survey, tailored to your needs, to find out what their needs, tastes, and preferences are.
You can configure the number of questions you need, and use different question-and-answer formats (drop-down, multi-answer, open questions, etc.), which will allow you to standardize the answers so that respondents only have to choose the one that best represents their opinion or leave the answers open.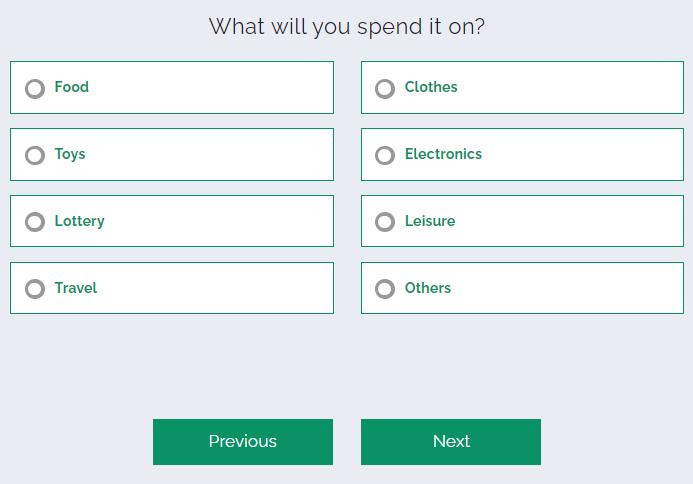 How to create an opinion survey.

2.4. Customer Satisfaction Survey.
Get relevant information about your brand, products, or services with satisfaction surveys. You can set up different types of questionnaires, fully customized, to know the customer experience:
NPS
CSAT
Open questions survey
Matrix type
Star rating
Numerical scale rating
etc.
In addition, you can customize and schedule the automated sending of emails with your surveys and access, in real-time, to the data obtained and to the statistics of the email events.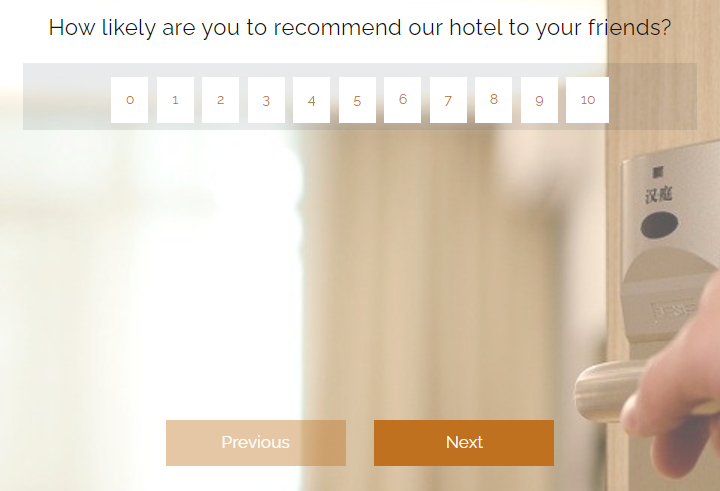 2.5. Quiz with an instant correction.
The feedback functionality will allow you to configure a knowledge or 'True or False' quiz in which the participant will know, at the moment of answering, if he/she has got it right or wrong and why.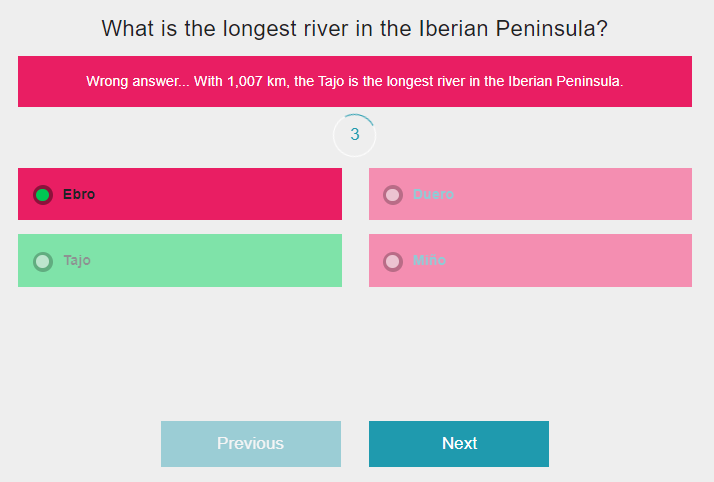 How to give feedback to users after answering a quiz question.

2.6. Quiz with a time limit.
Another quiz you can set up in Cool Tabs is a quiz with a time limit. You can set both a time limit for answering one or several questions and a time limit for completing a quiz.
The main objective is to try to get the user to answer the questions as soon as possible because, for example, you want to prevent them from searching for the answers, or you want to reward the fastest ones.
The participants can close the window, and try to answer the quiz later, but if the time is over, there will be no possible trick to answer the quiz out of it.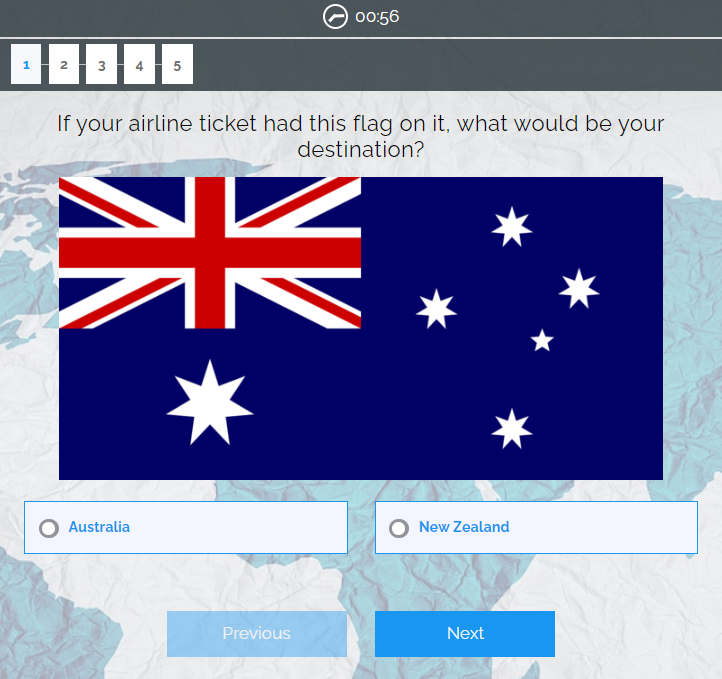 How to configure a quiz with a time limit to answer.
2.7. Quiz by phases or stages.
You can set up a quiz with stages so that in the different phases (for example, every week), new questions are displayed for users to answer. They will not be able to answer all of them at once but will have to enter the quiz at the intervals you set, to see which new questions have been published.
You only have to configure the dates on which each question will be displayed.
How to create a Multi-Stage quiz.
2.8. Quiz with random questions.
Set up a quiz with questions that are displayed randomly. In this way, each participant will answer a series of randomly selected questions from among all the questions you have configured.
The platform will randomly select the number of questions you indicate, thus obtaining a different participation form for each participant in our contest.
2.9. Quiz with logical jumps.
Set up dynamic 'Choose your own adventure' style questionnaires and surveys, in which the questions are conditioned by the answers given by the users. The logical jumps mechanic allows you to establish ramifications, to direct the participants through the questionnaire. In this way, depending on the answer given by the user, they will be shown some questions or others.
How to create a quiz with logical jumps and branching.
2.10. Quiz with Swipe answers.
This is a type of quiz or a survey with Swipe answer options, in which the participant has to swipe to the right or to the left to answer the options presented to him/her.
This mode allows you to set up more visual quizzes, with a quick and intuitive response model, specially designed for mobile environments.
You can include multimedia content to make it even more dynamic, among many other configuration options.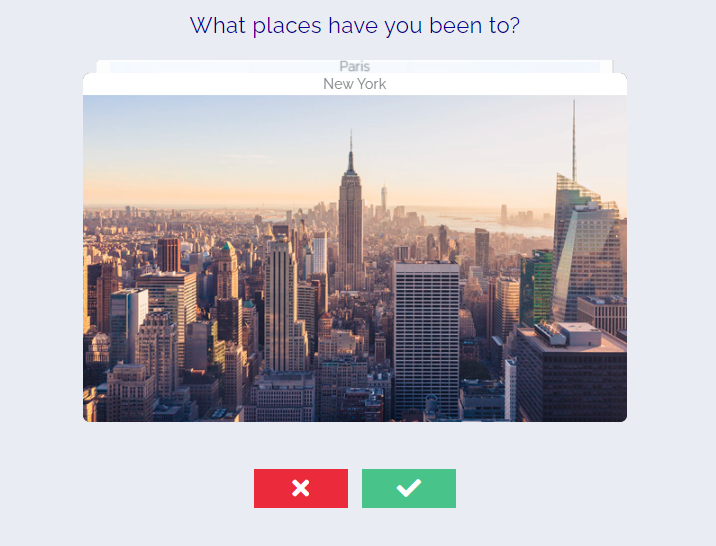 How to create a quiz or survey with Swipe answers options.

2.11. Sudden death quiz.
With Cool Tabs, you can also generate and customize a sudden death quiz, in which only the users who get it right continue answering the questions. If participants fail, they lose and have the possibility to go back to the "start box", to start the quiz again.

How to create a sudden death quiz.

2.12. Betting Pool based on a quiz.
Challenge your users to predict the results of a sporting event or any other event (movie awards, musicals, etc.).
You can enable a user ranking to show the participants with the most correct predictions. You can reward only the users who guess the most correct results, or make a draw among all participants.
This type of betting game is set up as a simple test with different answer options.
Once the event has passed and the results are known, you only have to assign points to the correct answers, and the platform will automatically distribute points among the correct answers.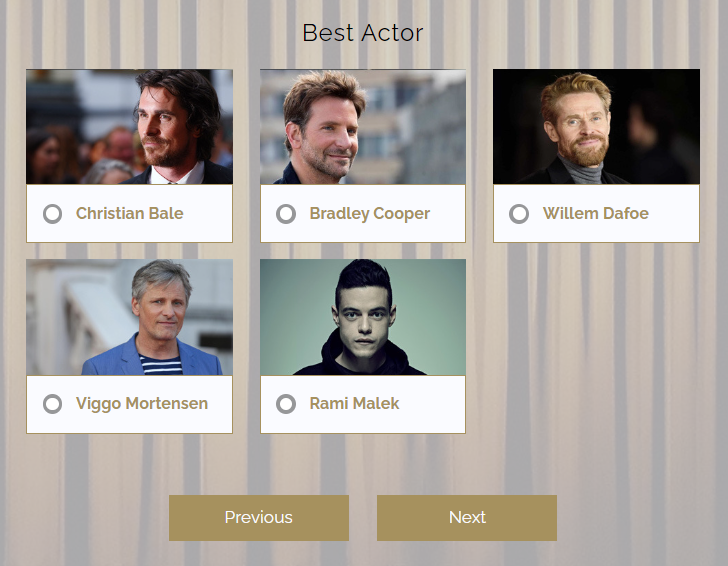 How to create Predictions or Betting Pool.
2.13. Betting Pool with sports game forecast.
You also have the option of configuring a betting pool, in which the participants make their predictions on the result of a sporting event.
This type of mechanics is configured with the 'sports game forecast' answers option. With this answer functionality, the participant only has to write his prediction, filling in the answer numerically or textually, depending on the configuration you choose.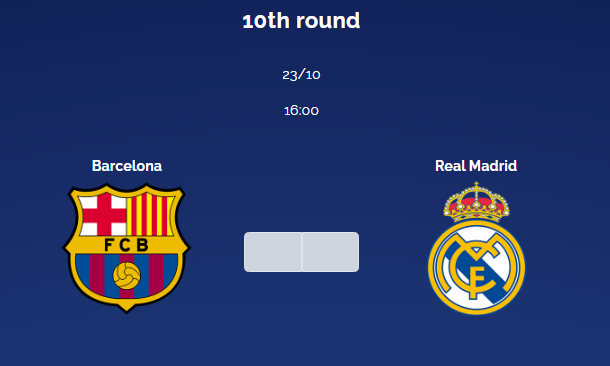 How to create a Betting Pool with sports game forecast.
3. Other specifications.
If you have any questions, do not hesitate to contact us at help@cool-tabs.com
4. Related content.
How to get started on creating a campaign: basic settings.